Companies in the financial services industry really know their stuff, but when it comes right down to lead generation and appointment setting, some of them need to brush up on the most important marketing strategies to leverage.
In any case, financial services are a hard sell for the reason that potential clients are usually particular in the type of service they want to purchase.
According to Experian.co.uk, financial businesses are facing three marketing challenges and these are:
Keeping up with the latest Financial Services marketing regulation – keep the customer first
Encouraging loyalty and retention within Financial Services
Making inroads into new markets within Financial Services
These, are also the reasons why companies selling financial services are finding more effective strategies to increase their product's profitability and, more importantly, nurture client relationships that can last a long time.
On this note, let us fill you in on what you can do to improve your lead generation – using the old strategies! We're not kidding. Apparently, from what we can observe with the marketing campaigns we are handling, old school lead generation still has enough fire to keep the sales pipeline alive and kicking with high-quality financial leads.
It's just a matter of deciding whether or not to apply them in your current campaign and see where the old dog takes you.
Cold calling.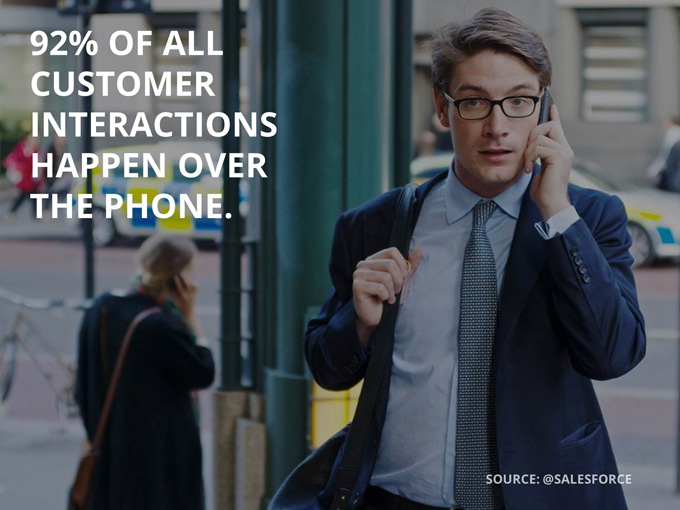 92% Of All Customer Interactions Happen Over The Phone. (Source: www.thebrevetgroup.com)
We know what you're thinking: We have smart devices at our disposal. So, why should we settle for such a prehistoric strategy as cold calling? Well, be it as it may, cold-calling seems to be an outdated channel for getting the kind of financial leads you want. Still, B2B telemarketing in general is still as efficient as it was before.
And this is because decision-makers in the financial services industry demand quality interactions with a marketing representative. In particular, there are still high-level managers (and there is a lot of them) who prefer receiving calls to reading a long Facebook post or a newsletter. For this to work out well for you, of course, you need to partner up with a company that knows telemarketing like it knows the financial services sector.
Cold calling pointers you might just want to check out:
Related: To Gain Financial Leads without the Added Costs, Plan and Expand
Trade shows.
Going to events with other financial services enterprises? Sounds like a good plan. But here's why you should dip your toes on it.
According to marketeer.kapost.com, trade shows generate the highest lead quantity and quality.
83% of the attendees have some kind of buying power
85% of decision makers say attending trade shows saves their company time and money by bringing vendors together under one roof
79% of the attendees say that attending shows helps them decide on what products to buy
91% of attendees say that trade shows impact their buying decisions because the competition is in one place allowing for comparison shopping in real time
85% of an exhibitor's success lies in the performance of the staff
53% of exhibit managers say its "difficult" or "very difficult" to keep effective booth staffers
Converting a trade shows lead to a sale costs 38% less than sales calls alone
Trade show visitors will tell 6+ people about their experience
81% of attendees at a recent show agreed that trade shows help attendees become aware of new products and services
91% of attendees tell us they get the most useful buying info from trade shows and events
(Source: 10 IMPRESSIVE STATISTICS TO BACK YOUR TRADE SHOW MARKETING PROGRAM)
Trade shows, where companies in the past had secured most of their quality B2B leads, still remain to be effective avenues from which a financial services company can acquire a steady stream of prospects.
Related: Social Media Promotion as an Effective Tool for Financial Services Marketing
All you have to do is to sign-up and prepare the things you need to draw in interested decision-makers. While you're at it, you can publicize your company's participation through your official blog. This healthy combination between the new and old schools of marketing creates an effective mechanism for generating quality leads. Get your first tradeshow clients with these marketing ideas.
But before you can put on your Throwback Thursday shirt, you have to realize that you need someone to help you navigate through the traditional side of B2B marketing.