Conversion rates occupy a vital spot in any marketing dashboard, but they're by no means the end-all and be-all of marketing metrics. Every conversion is the end result of a series of actions that prospects need to complete.
It's these tiny, intermediate steps that ultimately determine whether someone subscribes to your newsletter, downloads your latest whitepaper, signs up for a webinar, or reaches out to a rep at your company. Maximizing conversions means making this process as smooth as possible for your audience.
This is why click-through rates (CTRs) is a more meaningful metric to keep an eye on than overall conversion rates. CTRs give a clearer picture on what's working and what's wrong with your digital marketing campaigns at each stage of the conversion process. And because clicks tend to be strongly correlated with conversions, increasing CTRs will, in general, also lead to higher conversion rates. Here's why your website needs conversion rate optimization.
One proven way to boost CTRs is to optimize your calls-to-action (CTAs). CTAs influence clicks, which in turn drive conversions. This makes CTAs not only a key factor in maximizing CTRs but optimizing conversion rates as well. According to Michael Aagaard of Unbounce, CTAs represent the "tipping point between bounce and conversion".
But with so many elements of CTA optimization to focus on (and so many tactics to make it happen), it can be challenging to figure out how to tweak CTAs for better clicks and conversions.
Let's take a look at some proven ways to do this by dissecting actual examples of CTA changes that led to significant improvements in CTRs for different digital marketing channels. We'll cover effective CTA strategies for email, social media, paid search, website, and video.
Email: Putting only 1 CTA lifts CTRs by 42%
On average, a typical B2B email newsletter contains three CTAs. But averages aren't necessarily the most optimal numbers to follow, especially with email CTA best practices. That's because real-world results continue to show that the fewer the CTAs, the higher the CTRs. In fact, as one email case study demonstrates, the optimal number of CTAs might be exactly 1—nothing less, nothing more.
In 2014, Thomas Mender, head of database marketing at Whirlpool decided to test out a series of tiny tweaks to an upcoming email campaign. His team ran an A/B split test in order to determine how many CTAs the templates should include:
The control group contained a total of four (4) CTA buttons, Consisting of three (3) "Learn more" buttons (each leading to a separate product landing page) at the bottom and a single "See details" button (which pointed to the campaign's main landing page).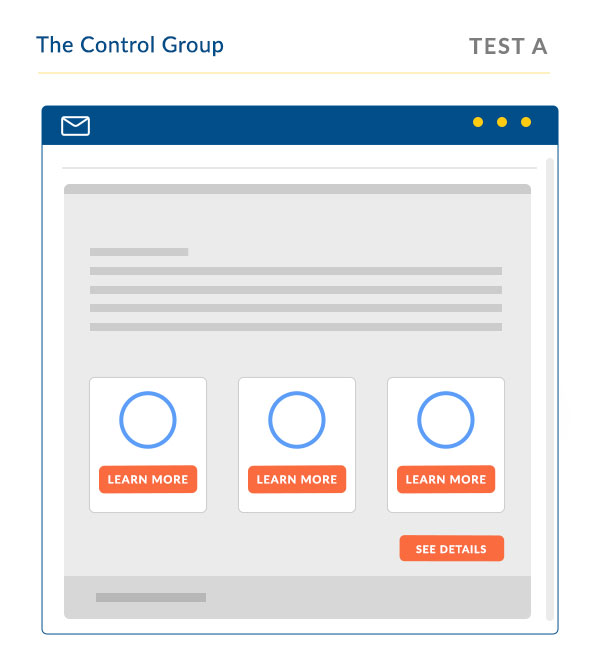 The treatment group exactly mirrored the control but included only the "See details" button.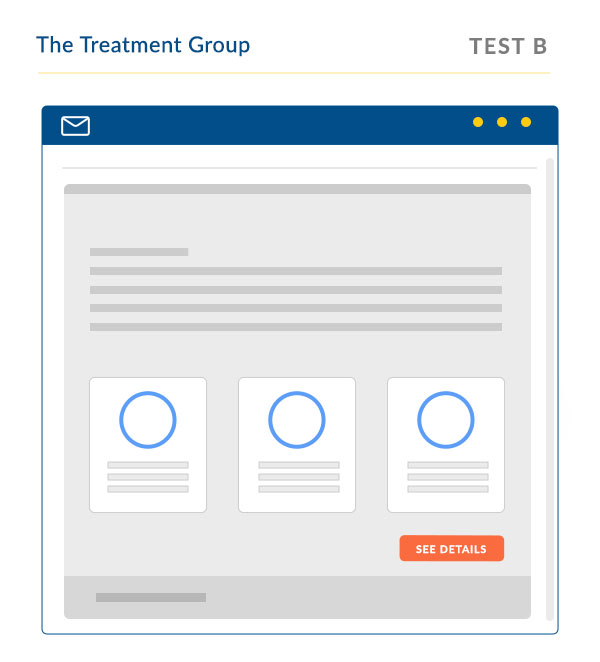 The results spoke for themselves. In terms of CTRs, the treatment emails outperformed the control by 42%. This clearly shows that, when it comes to CTAs, less is definitely more.
Related: 4 Email Closing Lines That Close Deals (Backed by Concrete Results)
PPC: Changing one word in the CTA leads to a 90% boost in CTRs
According to Elisa Gabbert of WordStream, there are four factors that influence a PPC ad's CTR: a compelling headline, some relevant keywords, an appropriate display URL, and a convincing CTA. Sometimes, something as small as changing a word or two in your CTA will result in a huge boost in CTRs.
That's what Unbounce did with its PPC campaign. The company split-tested two versions of their free trial signup CTA (each with a slightly different phrasing). One version read "Create my account", while the other said "Create your account.". The test results showed the CTA that used "my" fetched a 90% higher CTR.
Further analysis by WordStream found that this applies to PPC CTAs in general. Top-performing paid search ads tended to use specific words, such as:
"Buy", "Shop", and "Get" for selling

"Learn", "Discover", and "Sign up" for lead generation
Social Media: A strong CTA can increase CTRs by up to 285%
AdRoll says adding CTAs to your Facebook page increases CTRs by up to 285%. That's almost a four-fold increase with just a simple tweak. In his highly-recommended article "What I Learned Spending $3 Million on Facebook Ads", Noah Kagan of AppSumo and SumoMe credits a key part of his campaign's stellar results to the right choice of ad CTAs.
Seattle-based agency Point It did a little digging on the effectiveness of Facebook CTAs at improving CTRs and found the following:
For the insurance vertical, CTA clicks made up 0.9% of ad clicks, and CTA clicks were more likely to convert than non-CTA clicks.
For the tech vertical, CTA clicks represent 11.4% of total ad clicks, and CTA buttons result in higher conversions (though not as high as in other verticals).
For the SaaS vertical, CTA clicks comprise 3.3% of ad clicks, and CTA buttons result in a "significant" lift in conversions.
Here's a quick rundown of proven social media CTA tactics and the concrete results to back them up:
Tailor each CTA to your audience
Buffer saw massive improvements in its ad campaign's engagement and clicks (on a budget of $5 a day) by zooming in on its target audience and making sure the CTA copy resonated with them.
Make it clear and distinct
By changing "webinar" to "workshop" in a CTA copy, Facebook ad specialist Angela Ponsford doubled CTRs and leads for a client.
Always offer value upfront
Sales and marketing analytics platform InsightSquared ran a very effective Facebook ad campaign with a CTA that clearly mentioned what was in it for the target audience: a free eBook from one of the biggest names in SaaS.
Related: 5 Methods that Will Help Increase Conversion Rates Using Social Media
Web: Ditching free offer in homepage CTA grows signups by 200%
Most marketers swear by CTAs that leverage free offers like "Sign up. It's free" or "Get your free guide now". But as the next example shows, taking a completely different approach sometimes reaps better results than staying on the well-trodden path.
Back when Basecamp was still known as 37signals, the company's co-founder, Jason Fried, wanted to generate more free trial signups from its HighRise CRM homepage. His team tested out many different versions of "free trial" but failed to find the optimal verbiage.
It wasn't until they decided to drop the phrase "free trial" altogether and replaced the CTA copy with "see plans and pricing" that things finally started picking up. Signups eventually increased by as much as 200% as a result of the CTA tweak.
This example teaches us a few important lessons:
CTAs with free offers tend to perform well, but just because something doesn't cost money doesn't mean it's what your prospects are looking for.

Prospects and leads want to know exactly what they're signing up for. Free trials and demos can put off prospects, especially if leads are afraid of committing to something that might be hard to get out of afterwards.
Each CTA should nudge prospects toward a tiny step, not a huge leap. Going from homepage to a free trial can feel like a drastic jump for some first-time prospects, while a visit to the pricing page is probably a smoother transition.
Speaking of website optimizations, this resource focuses on fifteen (15) proven web design ideas that can help you convert visitors into leads.
Video: Well-placed CTA leads to 340% ROI in 2 weeks for video campaign
For KISSmetrics, a CTA within a video fetches 380% more clicks than a CTA in the sidebar. That's the power of a well-placed CTA. In the example below, we'll see how you can leverage CTAs the right way in your marketing videos.
Veeroll, a video platform for businesses, launched a Facebook ad campaign to promote its Veeroll Pro Membership (with a 30-day free trial). The ads led prospects to a landing page for a live webinar, which then took them to an order page that listed features, testimonials, and FAQs. The campaign ran as follows:
Tested both video ads and text ads simultaneously for comparison (video ads generated 18x more engagement and 3.5 more conversions than the text ads)

Decreased their CPC and improved conversions with retargeting

Split-tested various CTA ideas for each of their 4 video ads

Gained 122 new subscribers in 2 weeks that resulted in monthly revenues of $11,000 while spending a total of $2,500 on Facebook ads (a 340% ROI)
Learn how to create engaging videos that rack up views and shares
The Takeaway:
Sean Martin of Moz says it best when describing what CRO really does. CRO isn't about optimizing webpages. It's about tweaking the small things on your page that influence your prospects' decisions. That means focusing on things like CTAs and making sure it's going to be very easy for your visitors and leads to take action.