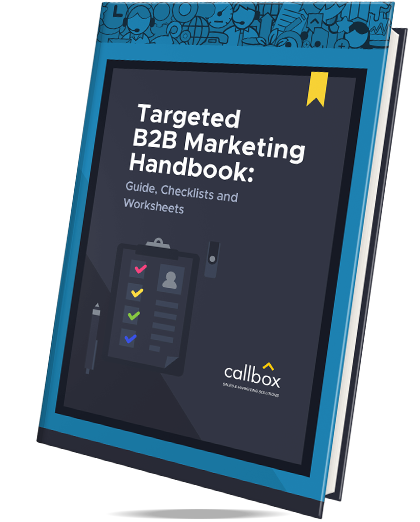 Download our free ebook:
Targeted B2B Marketing Handbook: Guide, Checklists and Worksheets
B2B marketers face a bazillion challenges every day, but all these boil down to four main issues: getting in front of the right decision makers, connecting with decision makers at the right time, leveraging the right channels to reach the target audience, and crafting the right message.
To meet these challenges head on, marketers need to develop and execute a robust targeted marketing strategy. This is where Callbox's new downloadable eBook Targeted B2B Marketing Handbook can help.
This eBook provides step-by-step guides, detailed checklists, and actionable worksheets to help you create a targeted marketing initiative from scratch (or refine your current program). The information and materials in this handbook let you:
Identify and classify potential buyers that have the biggest impact
Align your sales funnel with your target customers' path to purchase
Optimize your marketing channel mix
Maximize engagement and conversions with relevant message/content
Fill out the form and get your copy of the Targeted B2B Marketing Handbook today.
We keep any info you share with us private and confidential. For more on how we process and protect your data, please review Callbox's Privacy Policy