Businesses no doubt can never live without having good content at their disposal. If anything, content creates establishes the difference between success and failure. So, marketers should always keep their eye on content that actually works in acquiring high-quality sales leads.
But more than just creating content, businesses should also consider the complex task of knowing the kind of content that resonates with their target audiences. This, of course, involves a lot of observing and testing. It can even be challenging in the fact that it requires a certain level of expertise to analyze audience interactions and come up with crucial information for future content campaigns.
The difficulty, after all, lies in tracking these interactions across multiple channels. Positive interactions and feedback are not the only gauges of an effective content campaign. There is more to it than meets the eye. So, here are four ways to know if your content does get positive responses from prospects.
---
#1. Engagements
---
More than just interactions, engagements are a more accurate way of gauging audience interest. Prospects may skim over a pile of content but rarely do they get to engage a newsletter or a blog post that interests them. And this, of course, involves a good sense of knowing the information to include in your content. After all, you don't create content just because you have to. You create content in order to secure extensive partnerships with clients who are willing to work with you in the long run.
Related: The Five Elements of Quality Content (According to an End-user)
---
#2. Inquiries
---
It's difficult to determine whether a piece of content is engaging or not – unless you look at the comments section. Prospects are encouraged to key in an inquiry in the comments if they find something intriguing or relevant in your content. They want to know more. And by asking you via that little box below the blog article shows a desire to communicate with you in the long term.
Related: How to Reach Influencers and Grow Your Content Audience [VIDEO]
---
#3. High search engine visibility
---
Aside from comments sections, search engines are also your best friends in terms of keeping your campaign alive and kicking.An article that ranks high up at Google only shows that a lot of people have visited your site and read up on the content you just posted. It is just a matter of crafting content that is actually SEO-friendly on top of being relevant. Quality content always trumps quantity, and the more you churn out articles that are actually informative (with a dose of being entertaining), the higher your content ranks up in the search engines.
Related: Google Warns (Yet Again!) about Article Creation and Link Building
---
#4. Winning a social media follow
---
In today's marketing world, the effectiveness of a marketing campaign is better measured by how many followers an enterprise acquires across multiple social media accounts. A follow from a COO, in fact, says volumes about how your content marketing is going. He or she wouldn't have clicked on the follow button if your content isn't that good at all.
Related: Stick to these Three S's for Creating Viral Video Content
Learn more content marketing and lead generation tips at The Savvy Marketer's Blog!
Love to know how we generate qualified leads?
Get in touch with our Marketing Consultant or Dial +1 888.810.7464 or 310.439.5814
Grab a copy of our FREE EBOOK, Why You Should Bet Your Money on Digital Marketing (And Win)! We brainstormed ideas, analyzed data, and interpreted recent developments vis-à-vis previous trends before coming up with a realistic view of this year's marketing trends.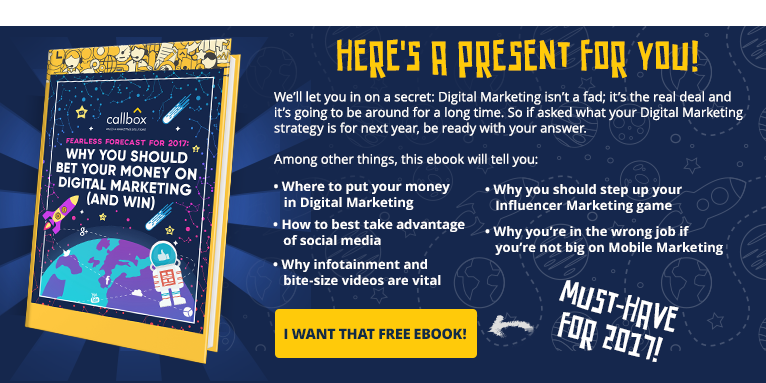 https://www.callboxinc.com/wp-content/uploads/2022/02/The-Top-5-Benefits-of-Digital-Marketing-for-Businesses.webp
450
800
Guest Author
https://www.callboxinc.com/wp-content/themes/enfold-child/assets/images/callbox-logo.svg
Guest Author
2022-02-21 06:00:00
2023-04-06 12:34:07
5 Biggest Benefits You Get from Digital Marketing
https://www.callboxinc.com/wp-content/uploads/2021/11/Creative-Ideas-to-Help-Your-Brand-Stand-Out.webp
450
800
Guest Author
https://www.callboxinc.com/wp-content/themes/enfold-child/assets/images/callbox-logo.svg
Guest Author
2021-11-10 06:00:00
2023-02-05 18:44:20
Creative Ideas to Help Your Brand Stand Out
https://www.callboxinc.com/wp-content/uploads/2021/07/Keeping-Your-Content-Marketing-Fresh-Preparing-for-2022.jpg
450
800
Melody Esteban
https://www.callboxinc.com/wp-content/themes/enfold-child/assets/images/callbox-logo.svg
Melody Esteban
2021-07-14 04:33:18
2023-02-01 02:02:56
Keeping Your Content Marketing Fresh: Preparing for 2022