So you finally have leads flowing into your pipeline. Now what? Which leads do you contact first? Should you reach out via email or phone call? How many times should you contact a prospect? When should you place a call or send an email? If a prospect does X, should you do Y or Z? What do you do next?
If you haven't yet fully answered all these questions or aren't very sure of your answers, then chances are you need to develop a solid sales cadence for your sales team (or your current one needs some refining). A good sales cadence brings structure and order in how reps engage leads, improving productivity and performance.
This post helps you build a winning sales cadence by taking a look at examples that have already been shown to work. The blog entry then draws lessons from each of these cases and provides practical tips to put these ideas into action within your own lead generation and sales process.
Sales Cadence: Some Basics
To make sure we're on the same page, let's first lay out some sales cadence preliminaries: what it exactly is, why you need one, and what other things to have on hand.
A sales cadence is simply a timeline of sales activities and methods reps follow to engage leads. For example, if one of the starting points in your sales conversion funnel involves a lead filling out a form on your site, the steps you take in order to contact that prospect and get him to agree to a face-to-face meeting make up your sales cadence.
In this case, the sales cadence tells you when and how to contact the lead after completing the form (e.g., email on day 1, call on day 2, send a follow-up message on day 3, etc.). Find out how you can generate leads for your business.
Clearly, having a well-defined sales cadence makes things in your sales process run more smoothly and more efficiently. That's because a sales cadence:
Maintains consistency by providing a set of specific and common procedures for reps to follow

Keeps everything easy to monitor and measure, making managing and optimizing the sales process simpler

Speeds up conversions by removing potential choke points or leakages

Allows you to quickly scale things up (such as growing your team or doubling your pipeline)
There are a few things you need to have on hand for a sales cadence to work as advertised. Many experts believe that a modern sales cadence requires at least three channels (emails, phone calls, and social media) to really make an impact. Also, most sources agree that it takes 6 to 8 touches before you can generate a valid lead. Finally, you need a tool to monitor all of these activities, and that's where a CRM platform comes in handy.
Sales cadences differ from one type of sales process to the next, but the basic idea remains the same: consistent, sequential touches. Complex sales processes often involve a lot of touch points and a longer time period for nurturing prospects (sometimes several months), while transactional sales cycles require fewer touches done over a period of days or weeks.

Related: What to Do after Lead Generation: The Ins and Outs of Appointment Setting
Sales Cadence Examples
If you're looking to create your own sales cadence (or looking to tweak your current one), there's plenty of ideas to borrow from the following proven examples.
Example 1
Our first sales cadence example comes to us from Sales Hub CEO Max Altschuler. This is a widely-cited sales cadence and works great as a starting reference.
Day 1: Email/InMail

Day 3: Email in the morning, Call in the afternoon

Day 5: Call in the morning, Call with a voicemail in the afternoon

Day 7: Email in the morning, Call in the afternoon with a voicemail

Day 10: Email and call in the morning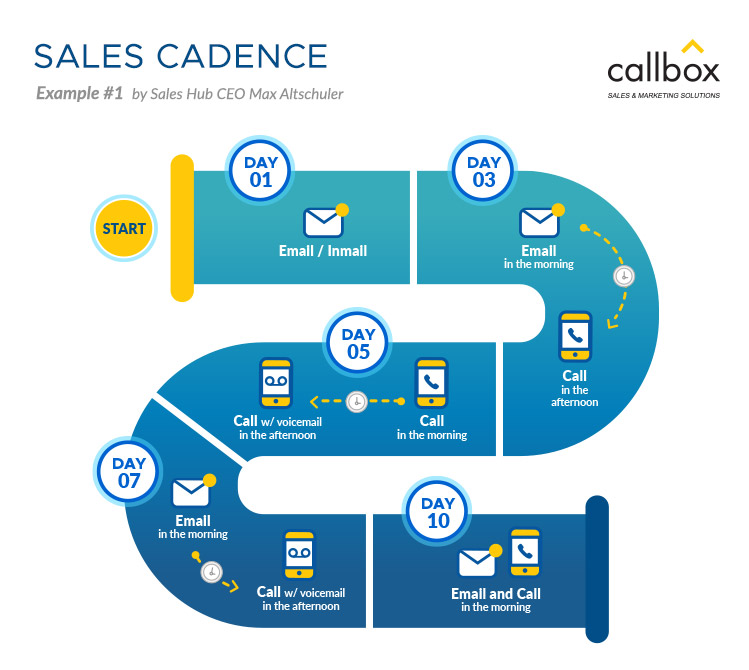 As you can see, this sales cadence consists of 10 touch points spread over 10 days. Other than its simplicity, this sales cadence also has the following strengths:
Makes use of all three key channels (email, phone, and social)

Leverages the law of immediacy (i.e., touches aren't spaced too far apart)

Uses both live phone calls and voicemails
On the other hand, this sales cadence needs some improvement in the following areas:
Uses too few touch points (keep in mind that most studies say it may take up to 13 touches to generate a valid lead)

Waits until day 3 to place a call (if this were an inbound lead, calling on day 1 would work well)
Related: 5 Actionable Email Marketing Templates you can Use to Follow Up
Example 2
The next example works well for lengthier sales processes. It's used by one of InsideSales.com's clients:
Day 1: Email 1

Day 2: Call 1, Voice mail 1, Email 2

Day 7: Call 2, Voice mail 2, Email 3

Day 14: Call 3, Voice mail 3, Email 4

Day 21: Call 4, Voice mail 4, Email 5

Day 35: Call 5, Voice mail 5, Email 6

Day 49: Call 6, Voice mail 6, Email 7

Day 63: Call 7, Voice mail 7, Email 8

Day 77: Call 8, Voice mail 8, Email 9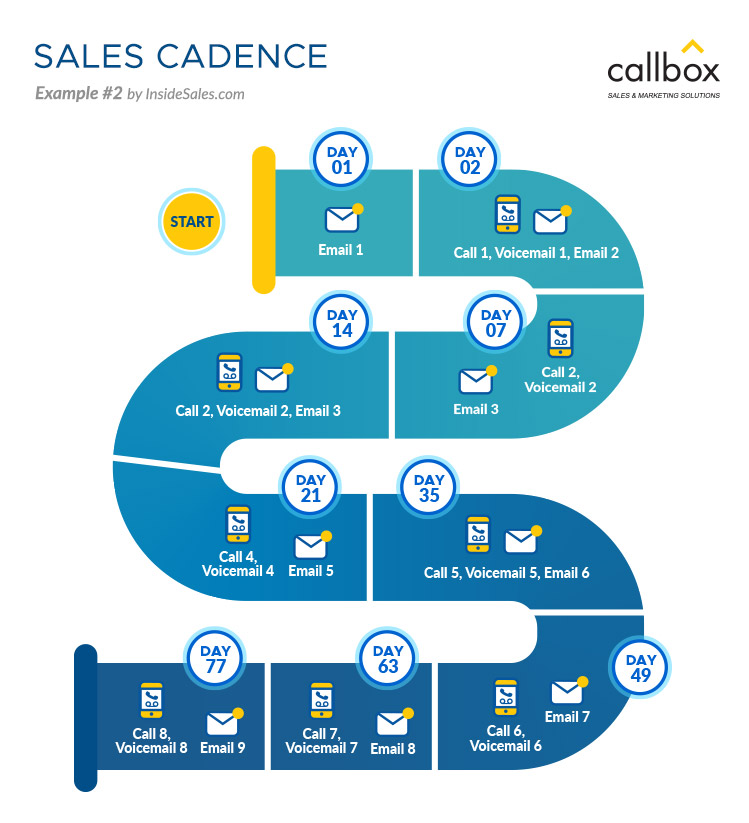 This sales cadence uses up to 25 touch points spread over 77 days (a little over two-and-a-half months). Its strengths include:
Starts off strong with email on day 1 and follows it up with a call the next day

Combines live phone conversations with voice mail messages
While this cadence fits in with an outbound sales strategy for longer sales cycles, it does have a couple of weaknesses that need attention:
Lacks a social media component

Schedules successive touch points too far apart from each other

Relies on repetitive and almost predictable mix of channels
Example 3
Once again, we're using a working outbound sales cadence developed by one of InsideSales.com's customers as an example:
Day 1: Emails 1 and 2

Day 2: Email 3

Day 3: Call 1, Voice Mail 1

Day 4: Social Media 1, Email 4

Day 5: Call 2, Email 5, Social Media 2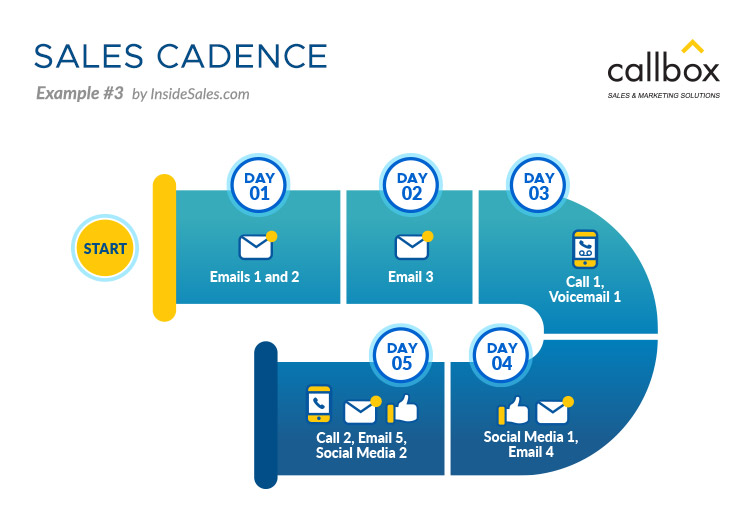 This sales cadence packs a lot of touches in such a short time period (5 days) and works because it:
Leverages all three key channels (email, phone, and social)

Uses emails extensively throughout the whole process

Varies the mix of touch points from one day to another
However, there's still some room for improvement, particularly since the cadence:
Squeezes so much activity in so short a time and risks overwhelming the prospect

Waits until day 3 to follow the opening email with a call
Related: The 5 Success Factors of Multi-Channel Marketing Revealed [INFOGRAPHIC]
Example 4
Brandon Huang, an SDR at Yotpo, shares a 22-day sales cadence idea he says helps him produce consistent results.
Day 1: Email

Day 3: Phone

Day 4: Email

Day 7: Phone

Day 7 Email

Day 10: Phone

Day 12: Email

Day 14: Phone

Day 16: Email

Day 19: Phone

Day 21: Phone and Email

Day 22: Nurture or Repeat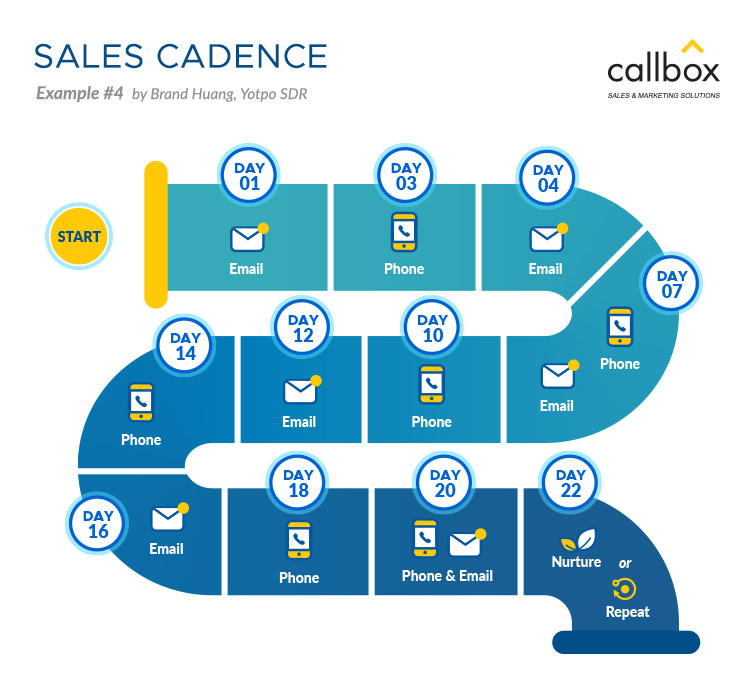 Brandon Huang's sales cadence consists of 13 touch points done over 22 days. Its main strengths include:
Spreads touch points over a 3-week period

Leverages immediacy without being too aggressive
However, this sales cadence contains some glaring flaws:
Limits the channels used to phone and email only

Waits until two days before following up initial email with a call

Fails to maximize engagement per day (some days could have included both email and phone activities)
Related: Things to Do When Dealing With A B2B Prospect that's Difficult to Reach
Example 5
Here's a sales cadence example which managed to deliver some pretty impressive results. Carlos Montero, CEO at digital marketing consulting firm Biassa, says this sales cadence helped him book meetings with 11 of the biggest e-commerce companies:
Day 1: Prospect Research

Day 2: InMail

Day 3: Follow-up InMail

Day 4: Email

Day 5: Follow-up Email

Day 6: Phone

Day 7: Social Media (share an article and tag the prospect)

Day 8: Video Email

Day 9: Social Media (engage prospect on LinkedIn)

Day 10: Voice Mail

Day 11: Email

Day 12: Phone or Email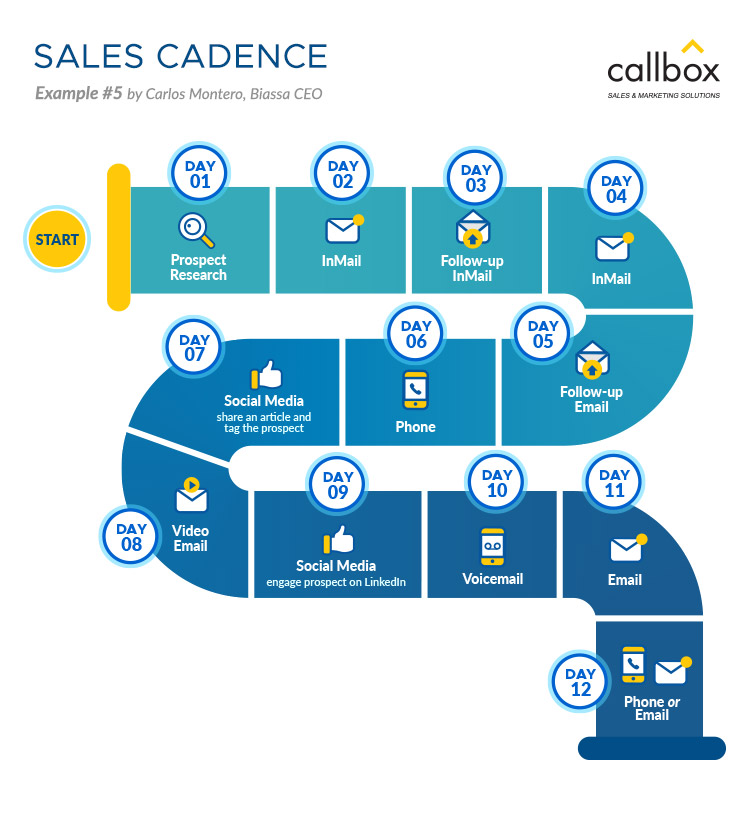 Carlos Montero recommends setting aside as many as 22 days to carry out all these activities. From the outline, it's clear that the sales cadence:
Combines email, phone, and social

Uses a rich content strategy (by including articles and videos)

Strikes a balance between persistence and disturbance
But even with solid results behind this sales cadence, there are a couple of things you need to look out for, especially since it:
Requires more research and personalization

Makes reaching out at scale a bit more challenging
Related: AskCallbox: What makes an effective lead nurturing program?
The Takeaway
A sales cadence helps your team navigate the often choppy waters of revenue generation. It keeps your reps' momentum more consistent and their performance more measurable. With these lessons and tips, it's easier to develop or optimize your own sales cadence.