The moment has arrived. After grueling weeks of nurturing the prospect, he or she has agreed to set an appointment with a sales rep. You have been waiting for this ever since you made the interaction. It's like a high schooler's first date, but instead of a quick smack on the lips, you are eager to secure a sales close.
But like any teenager who hasn't had the experience yet, you might find yourself in a pickle of determining how to make a business presentation that is sure to get a resounding YES!
Businesses know that familiar feeling when they prepare for a sales appointment. Every word counts, as well as every pixel in your PowerPoint Presentation!
The fact of the matter is, there is a great deal of expertise involved in creating a presentation that will have a lasting impact on your prospect. Luckily, there are ways you can create a truly compelling business presentation. Let us fill you in on some of them.
Keep it fun
As much as it is a serious engagement, business appointments shouldn't always be as dull as a lecture about the parts of the brain. You can still make a presentation that educates and informs while you put a dash of fun in your presentation. You are not just a businessman, you are also a friend to your prospect; a friend who wants to crack jokes and gives a light-hearted atmosphere to any kind of situation. You can show this by inserting some jokes here and there and (most importantly) avoiding monotony in your speech. Doing these will keep your prospects glued to what you want to say to them.
Related: Marketing Investments: Why Business Analytics Really Are Worth The Time And Money
Do not beat around the bush
In other words, go straight to the point. You prospect probably had important functions to attend but postponed them just to hear you out. Do not lose this chance to make a lasting impression. And the least you can do is avoid using too much industry jargon that will only bore your prospects to death instead of keeping them on the edge of their seats. Moreover, your presentation should have a logical flow that takes your prospect from point A to point B and eventually to possible sales close.
Related: Making a Good Impression on the Initial Call with a Senior Executive
Organize your materials
A good soldier knows better than to keep his things in disarray. And, although you are not at war, you should also keep yourself organized before the big day. Your presentation and handouts should be similar and should include the most important points you want to present. Aside from that, you should also check if the content of your presentation is in order, and that means checking for grammatical and spelling errors, as well as omitting parts that are too wordy and ambiguous.
Related: How to Get Quality IT Appointments Hands-Free with Marketing Automation
Do you have what it takes to create a handsome business presentation? Share your insights in the comments below.
Learn more Sales and Telemarketing tips at The Savvy Marketer's Blog
Love to know how we generate qualified leads?
Get in touch with our Marketing Consultant or Dial +1 888.810.7464 or 310.439.5814
Grab a copy of our FREE EBOOK, The Ultimate Lead Generation Kit Ebook! Updated with links to the best and latest techniques that will help generate quality sales leads for your business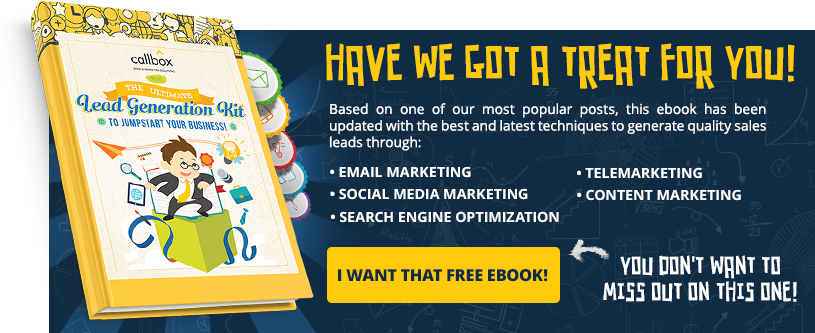 https://www.callboxinc.com/wp-content/uploads/2022/06/Title-featured.webp
450
800
Melody Esteban
https://www.callboxinc.com/wp-content/uploads/2021/07/callbox-logo.svg
Melody Esteban
2022-06-22 06:00:00
2022-06-22 09:42:33
6 Things to Know When You Start B2B Appointment Setting
https://www.callboxinc.com/wp-content/uploads/2022/06/Featured-title.webp
450
800
Melody Esteban
https://www.callboxinc.com/wp-content/uploads/2021/07/callbox-logo.svg
Melody Esteban
2022-06-15 06:00:00
2022-06-23 10:36:11
What to Do after Lead Generation: The Ins and Outs of Appointment Setting