---
People nowadays stumble upon the words telemarketing and telesales every so often. Numerous times, if one is a stranger to the B2B industry, it is easy to say that both are one in the same.
---
We owe the confusion to the prefix tele, but the similarity ends there. While both use the telephone as an audience communication channel, telemarketing and telesales fill distinctly essential roles in the growth and prosperity of a business enterprise.
The real score
First of all, Integrity Business Connections points out that telemarketing is "less about volume, and more about quality, and is specifically used for setting appointments at which a sales person will attempt to make the sale. Therefore, telemarketing requires a more complex process, often taking a script and veering off as the conversation requires it."
Furthermore, telemarketing takes a long time to work its magic. While it is not directly involved in winning a sale, it is nonetheless essential in keeping a prospect constantly interested with a product or service. Telemarketing uses lead nurturing mechanisms to verify information and determine whether a decision-maker is "warm" enough to consider buying the product or service, in which case B2B appointment setting comes in to open a can of sales opportunities.
Telesales, on the other hand, "is used, as the name suggests for taking a sales order over the telephone, for a product or service."
It makes use of callers who are trained simply for securing a prescribed number of sales a week. Making sales pitches for products like enterprise software may look easy, but experience and an understanding of buyer psychology goes a long way in terms of bypassing any potential sales barrier.
Torn between two tele's?
Between telemarketing and telesales, which is more vital for providing better revenue?
Integrity Business Connections makes a good point by saying that telemarketing is more suited for B2B, since the "buying cycle is much longer and their sale order value is quite high." That leaves telesales to B2C, where speed and volume form a large part of business strategy.
Here's a bonus infographic from Integrity to illustrate how they really differ: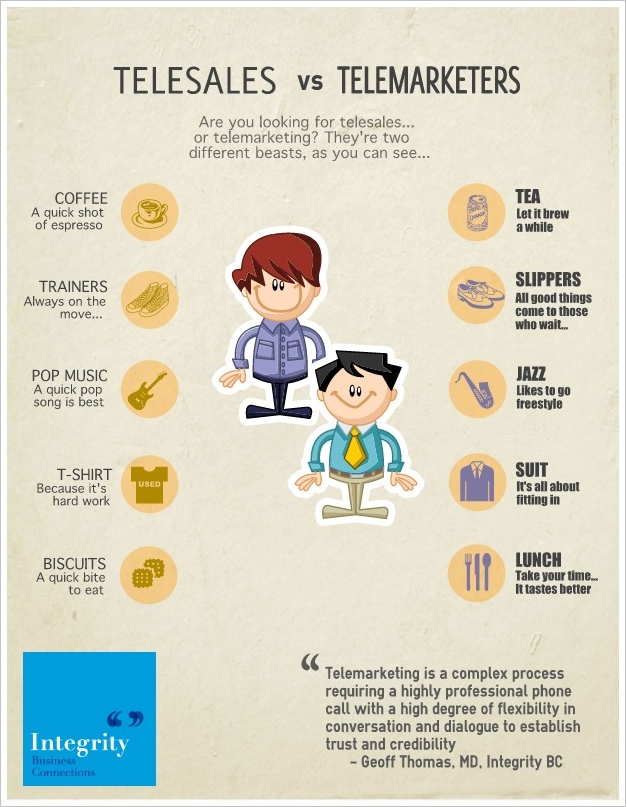 But why not have the best of both worlds?
For Katie Smith, marketing communications manager of ThomsonLocal.com, the "most effective (if potentially costly) method is an integrated campaign of Telemarketing (plus a variety of other traditional marketing research initiatives) to identify lead generation followed by an outbound Telesales campaign." This concept, she adds, is proven to deliver better results in lead generation as well as sales.
Close more deals with our lead generation services or learn more B2B marketing ideas.
Sources: Telesales vs. Telemarketing, What is the Difference Between Telemarketing and Telesales?