Hopefully, the title didn't mislead you in any way, because there is enough reason out there to say that B2B telemarketing continues to be an effective force in terms of acquiring B2B leads despite a vocal push to go digital. Is there anything new to telemarketing that it manages to stay on in every B2B campaign? Here are some insights from Lead Agency's Kim McNeil:
MARKETING ON THE MOVE
A mobile friendly web design has become a must-have for any website owner, as has creating mobile friendly content. The more tech savvy marketers have also used location information provided by mobile phones to target prospects based on their physical position.
Here's an illustration from comScore describing how mobile users increased from 2007 until current: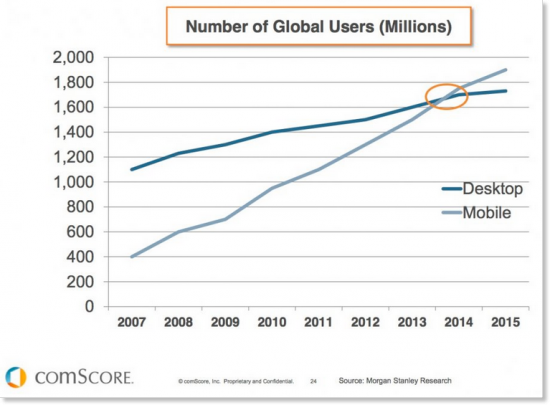 In an article Mobile Marketing Statistics 2015, Danyl Bosomworth stated "So it's no longer a case of asking whether mobile marketing important, we know it is!"
Related Post: Will you move to mobile this 2015?
Smart B2B marketers are harnessing new technologies and applying knowledge of mobile devices to their marketing strategies.
Smarter B2B marketers are remembering the original use of mobile phones, and using that to inform their marketing strategies.
USING PHONES FOR … PHONING?
As more and more prospects own mobile phones and the capabilities of the devices are advancing, B2B marketers are starting to overlook their main function: to make and receive calls.
A recent survey by Software Advice (2013) analysed the most used communication channels by B2B marketers. In-house email marketing, SEO and Social Media took the top spots, while the use of telemarketing was significantly less, coming in at position 7 overall.
---
Grab a copy of our FREE EBOOK, The Ultimate Lead Generation Kit Ebook! Updated with links to the best and latest techniques that will help generate quality sales leads for your business.
---
ACTIVE VS PASSIVE B2B MARKETING
From this survey, we can see that today's most commonly used B2B marketing strategies involve creating content, social media posts, and designing websites. Marketers are generating content then relying on the prospective client to find the information and act on it. This is known as passive marketing, and generally works for brand building over a long period of time. However passive marketing strategies take a significant amount of time and budget that many B2B marketing companies simply do not have.
In the B2B space where buyers have the power, active marketing efforts most often produce a higher ROI. Active marketing involves continually reaching out to prospects until you get in touch with them. As Over 80% of today's B2B sales are made after the 5th contact, this is often a necessary strategy.
Picking up the phone and having a direct conversation with your prospect is one of the best options for an active marketing strategy and can significantly increase lead generation and nurturing initiatives. In fact, Margin Media [2013] reported that marketers qualified over 80% of leads as high or medium quality from telemarketing activity.
---
Cold calling might be an aggressive method but delivers fast ROI for businesses. It has helped Callbox increase its sales and revenue.
Learn how this 5 to 5 Calling Rule for Inbound Leads (Generated Over 40% Increase in Sales)
However, incorporating it with other channels might boost your brand awareness and achieve excellent marketing results. Learn more about Multi-Channel Marketing and why it's worth investing.
So it's up to you. Whether to focus on one productive strategy or try something new, you"ll never know — you might as well double your production.
We have a list of case studies to prove you that telemarketing is still effective. Check them out!
Reach out the Right prospects at  Right time! Watch our Smart Calling video
SMART Calling (Sales & Marketing At The Right Time) from Callbox on Vimeo.
https://www.callboxinc.com/wp-content/uploads/2022/03/New-B2B-Telemarketing-Techniques-That-You-Can-Start-Using-Now.webp
450
800
Melody Esteban
https://www.callboxinc.com/wp-content/uploads/2021/07/callbox-logo.svg
Melody Esteban
2022-03-23 06:00:00
2022-03-28 02:59:33
New B2B Telemarketing Techniques That You Can Start Using Now
https://www.callboxinc.com/wp-content/uploads/2021/09/5-Powerful-Telemarketing-Spiels-To-Overcome-Any-Situation.webp
450
800
Rebecca Matias
https://www.callboxinc.com/wp-content/uploads/2021/07/callbox-logo.svg
Rebecca Matias
2021-09-27 06:00:00
2021-09-27 03:27:45
5 Powerful Telemarketing Spiels To Overcome Any Situation
https://www.callboxinc.com/wp-content/uploads/2021/08/Watch-On-Demand-5-Times-Telemarketing-Can-Get-Your-More-Leads-and-Sales.webp
450
800
Melody Esteban
https://www.callboxinc.com/wp-content/uploads/2021/07/callbox-logo.svg
Melody Esteban
2021-08-19 18:33:33
2021-09-24 03:57:16
Watch On-Demand: 5 Times Telemarketing Can Get Your More Leads and Sales