When is the best time to post on social media? Maybe between 7 to 9 in the morning before classes and office hours start, 5 pm till late evening, weekends, or just anytime a thought or a moment that deserves a click comes up; regardless of who likes, reacts or shares the post.
In business, you couldn't care less on your social media posts. According to The Social Media Hat there are optimum post times for businesses to catch the majority of followers when they are most active.
Worst Time:
Facebook: 8pm – 8am
Twitter: 8pm – 9am
Google+: 6am – 8am
Pinterest: 5pm – 7pm
Best Time:
Facebook: 1pm – 4pm
Twitter: 1pm – 3pm
Google+: 9am – 11am
Pinterest: 2pm – 4pm, 8pm – 1am
The social media posting data was probed not solely for users to maximize the peak exposure period but to enable them to reach target followers at a time when they are most active and ready to respond.
The same tactic works well for marketers in analyzing the best time to call prospects.
We've learned so many telemarketing lessons and strategies in the past like to call prospects during Wednesdays and Thursdays between 8-9am and 4-6pm and promptly calling inbound leads within 5 minutes of receipt, but getting hold of a prospects in a phone call at his best time is a prevailing challenge for most telemarketers up to now.
The truth is, these proposed calling time frames may have been proven effective in the previous years, but may now hardly withstand the challenge brought about by the rapid evolution of the digital age that has affected and continue to affect the way people do business.
Related: Inbound and Outbound Strategies is a Match Made in Marketing Heaven
Today, decision makers move and think fast, are aggressive, interactive and adeptly practice technology-based sales scheme from start to finish. This should be a compelling reason for telemarketers to become smarter in analyzing the best time to catch prospects when they are most ready to answer a business call and at the same time, utilize all available tools and resources that would ease the call flow while mitigating call failures like missed appointments, No Answer, several follow-ups and busy signals, SMART Calling is one of the proven tactics.
Here's a quick walk-through of SMART Calling
SMART Calling is a technology process that is capable of prioritizing sales calls based on a set of rules that can be configured to optimize prospect reachability. Using a weight-based system of different events, filters, KPIs and lead scores, SMART Calling scores target prospects on the list based on a combination of factors, including:
Lead score

Recency of the Last Call

Times of successful phone contact

Times of email opens

TImes of email replies

Times of website visits
Note that Lead scores are an indication of your prospect's sales-readiness based on demographic and behavioral scores and an integral part of the prospecting process that will give insight of WHO to pursue first – a process that would hone agents to become SMART marketers.
Read more: SMART Calling: What's the Edge?
What difference can a SMART Marketer make?
The SMART Calling process will remain just a process unless efficiently utilized and proven effective by telemarketers, but wouldn't you agree if we say vice versa? Undeniably, the telemarketing business, just like all the others have become much dependent on technology breakthroughs in streamlining and refining prospecting methodology.
Below are notable characteristics and skills of a SMART marketer:
A SMART Marketer knows how to reach targets who are ready to move further down the sales funnel.

The SMART Calling technique will enable the agent to prioritize calls in real-time, moving up calls to prospects with the highest SMART scores, giving a higher probability of speaking with the target decision maker.
Related: Who Says Telemarketing Can't Drive Leads Further Down the Sales Funnel?
A SMART Marketer knows when the target decision maker himself is most reachable and available to talk.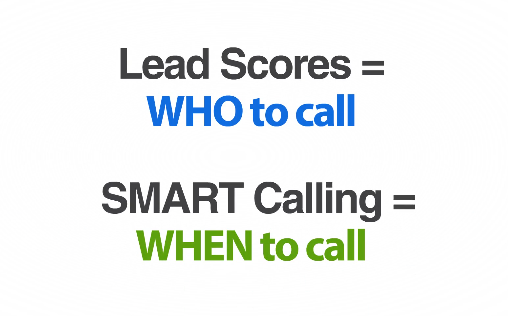 While Lead scores will demographically show you WHO to call, SMART Calling provides the agent the ability to demographically and behaviorally calculate not only with WHO to pursue first but also the best time WHEN to call and HOW to best reach the target decision maker as to whether via mobile, email or social/professional network sites.
Enabling marketers to reach warm prospects at the right time with less time wasted on busy signals, voicemail or no-answers, and more time for actual talk.
Related: Keep Prospects Glued on the Phone Like Bees to Honey
A Smart Marketer knows how to run an efficient marketing campaign.
SMART Calling processes contact data and makes adjustments in real-time, improves agent productivity levels with less idle time and more talk time, and gets you in front of your target prospect at the best time – when they are most interested and willing to hear what you have to offer.
Let's simply put it, SMART Marketers are those who Reach the Right Person at The Right Time, just as how savvy social media posters snappily catch the most followers at a time when they are most ready to Like, Retweet or Share your posts.
Be a SMART Marketer, Learn more about our Smart Calling