Rejections aren't really a good thing. For sure, marketers wouldn't want to experience one since it shows one basic fact: rejections gauge how effective a marketer you are.
And that means a lot to cold-callers and content marketers alike. Getting put down by an unflattering comment would also mean lost sales opportunities and, even worse, a big blow to one's ego. Who doesn't feel bad after getting a big "No" from a high-value prospect anyway?
One thing's for sure, even the most seasoned telemarketers experience a bad day or two, but they are able to dust themselves off and continue hustling as if nothing bad ever happened. This is because they see rejections as a part of the development process of a marketer. They can help you grow and transform you into a star marketer.
Getting your first rejection might put you down, but you have to change how you view a rejection for you to move forward.
Don't take it too emotionally
A rejection is too tough to handle, but it isn't always like that. Whatever industry you are in, you have to prepare yourself for the inevitable. But don't ever think that it's the end of the world because a single rejection is only a drop in the ocean. Here's What to do After a Horrible Sales Call?
Don't play the blame game
If you can't be emotional, you can at least try to downplay the rejection, right? Well, it doesn't always work that way. Trying to refuse accountability is only counterproductive. Shifting the blame to other people or rationalizing the rejection even can worsen the rapport you have with your team. The best thing to do is to accept that you were rejected and use it to resolve whatever weaknesses you have. You may want to read  The Perfect Response to "We Are Currently Working With Your Competitor"
There are other opportunities
When a prospect says "no," it doesn't actually indicate total rejection. People have their reasons to turn down an offer. And if you think you have done the best you can to reach a deal but got rejected, then you shouldn't have a problem calling another prospect. Perseverance is an essential ingredient to success, and you have to learn how to move on from things you just can't control no matter how hard you try.
Related: Going Beyond the 500% ROI: How to Integrate Telemarketing with Other Channels
Reflect
We don't really mean signing up for weekly yoga sessions. All you need to do is to analyze the areas where you fumbled. Identify certain patterns and try to infer the certain points you have made that could have influenced the rejection.
Related: Be a SMART Marketer, Know the Best Time to Call your Prospects
Recover
After you have identified the problems that you need to correct, it is just a matter of modifying your approach and come up with strategies that actually work like this 5to5 Calling Rule that we've tried in our inbound leads. Recover after a rejection, and you will see fewer of them as you move along.
A WINNING SCRIPT and S.M.A.R.T Calling strategy is surely the BEST combo!
Get more qualified telemarketing leads today! Dial 888.810.7464
This ebook walks you through some key questions and tips to help you get started on using a predictive lead scoring system for ranking and classifying leads. Grab a copy here!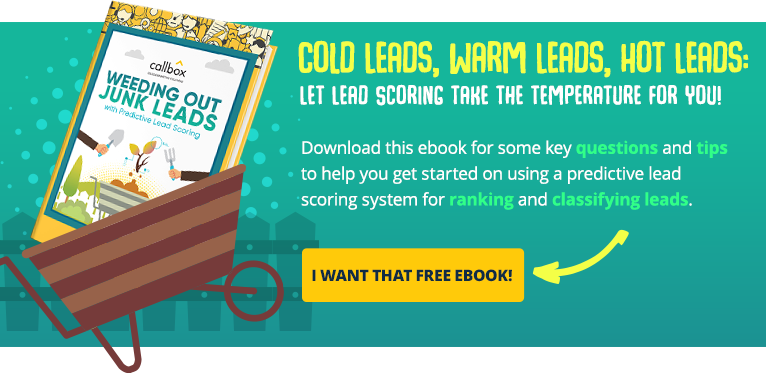 Lead generation is done by advertising through multiple channels. The more audience you reach, the more they become aware of your product or service. And that could lead to more customers.
https://www.callboxinc.com/wp-content/uploads/2022/04/6-Cutting-Edge-Lead-Gen-Strategies-for-Non-Tech-Industries.webp
450
800
Melody Esteban
https://www.callboxinc.com/wp-content/uploads/2021/07/callbox-logo.svg
Melody Esteban
2022-04-05 06:00:00
2022-04-05 02:35:03
6 Cutting-Edge Lead Gen Strategies for Non-Tech Industries
In this article, we've prepared an actionable guide of 5 easy ways you can quickly increase the number of sales leads.
https://www.callboxinc.com/wp-content/uploads/2022/03/Top-4-tips-and-tricks-to-increase-b2b-sales-leads.webp
450
800
Guest Author
https://www.callboxinc.com/wp-content/uploads/2021/07/callbox-logo.svg
Guest Author
2022-03-29 06:00:00
2022-03-29 17:45:41
Top 4 Tips and Tricks to Increase B2B Sales Leads
In this article, we will be presenting 10 elevator pitch examples that will catch your listener hook, line, and sinker.
https://www.callboxinc.com/wp-content/uploads/2022/03/7-elevator-pitch-examples-that-will-get-tech-buyers-attention.jpg
450
800
Melody Esteban
https://www.callboxinc.com/wp-content/uploads/2021/07/callbox-logo.svg
Melody Esteban
2022-03-16 06:00:00
2022-03-17 13:28:35
7 Elevator Pitch Examples that Will Get Tech Buyers' Attention