Most companies nowadays focus more on promoting their products than one securing a steady flow of sales appointments. After all, it is the ability of setting these appointments that make revenue growth possible.
However, the main issue remains to be consistency. Indeed, what should companies do to convert leads into sales? What should they not do in order avert a rejection? What propositions are the most effective to certain prospects?
Especially if you are a tech company that has to secure an advantage for your software and IT products, these questions are essential to make sure you improve your sales numbers and position your brand as a top performer in the B2B industry.
At any rate, you will probably scout for a third-party firm that is capable of delivering the results you wanted – specifically, a consistent stream of high-value appointments.
With that said, here are some of the most important tips to find an appointment setting company that best fits your needs.
1. Experience is everything
With so many third-party lead generation and appointment setting companies to choose from, you should (scratch that, must!) lay your eyes on those that show valuable experience in the marketing field. Competency is as much an important resource as having a tongue for telemarketing, so it must mean a lot to have expert-level knowledge about the industry. If you want clients to get a better understanding about what you are offering to them, you need to show that you know more as much. Hence, it makes sense to find a marketing service that already has a background in handling campaigns related to your field.
Related: 5 Research-Backed Reasons to Outsource Your Marketing & Lead Generation Program
2. Align your process with your prospects
All too often, businesses are unable to come up with effective propositions that resonate with their prospects. The culprit: A lack of alignment. It is, after all, highly essential to know the decision-makers you are dealing with so you can field the right people to engage them. It helps to have people who are capable of handling complex talking points and are specifically trained to invite even the toughest prospects on board. With this, you might want to get an appointment setting company which already has the capacity to convert leads into sales commitments just by sheer skill in phone correspondence.
Related: 6 Ways a SMART Telemarketing Platform Doubles Sales Productivity
3. How much is too much?
In terms of generating sales appointments, you will always aim for the highest numbers. What's important is that you feed your pipeline continuously with prospects who are on the verge of making a purchase. This can only be possible once you have already defined your regular call volume. Three sales appointments just won't cut it. You need to make sure that the sales cycle keeps on turning, so you will have to opt for an appointment setting service that knows how to deliver the results you needed.
Get our FREE sample telemarketing scripts for All Industry types. This includes scripts for appointment setting, event telemarketing, and data profiling:
A WINNING SCRIPT and S.M.A.R.T Calling strategy is surely the BEST combo!
Get more qualified telemarketing leads today! Dial 888.810.7464
This ebook walks you through some key questions and tips to help you get started on using a predictive lead scoring system for ranking and classifying leads. Grab a copy here!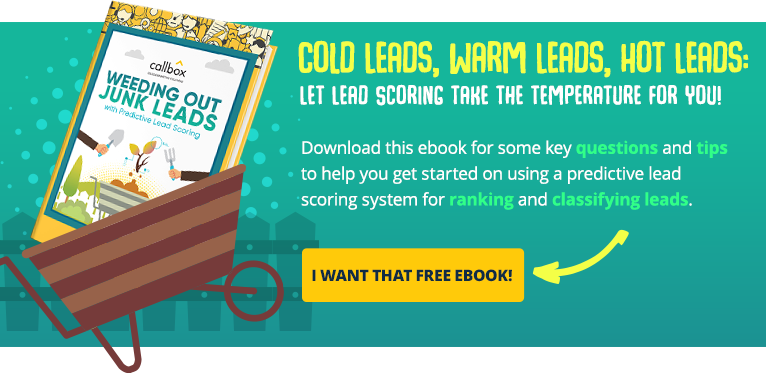 https://www.callboxinc.com/wp-content/uploads/2022/04/6-Cutting-Edge-Lead-Gen-Strategies-for-Non-Tech-Industries.webp
450
800
Melody Esteban
https://www.callboxinc.com/wp-content/uploads/2021/07/callbox-logo.svg
Melody Esteban
2022-04-05 06:00:00
2022-04-05 02:35:03
6 Cutting-Edge Lead Gen Strategies for Non-Tech Industries
https://www.callboxinc.com/wp-content/uploads/2022/03/Top-4-tips-and-tricks-to-increase-b2b-sales-leads.webp
450
800
Guest Author
https://www.callboxinc.com/wp-content/uploads/2021/07/callbox-logo.svg
Guest Author
2022-03-29 06:00:00
2022-03-29 17:45:41
Top 4 Tips and Tricks to Increase B2B Sales Leads
https://www.callboxinc.com/wp-content/uploads/2022/03/7-elevator-pitch-examples-that-will-get-tech-buyers-attention.jpg
450
800
Melody Esteban
https://www.callboxinc.com/wp-content/uploads/2021/07/callbox-logo.svg
Melody Esteban
2022-03-16 06:00:00
2022-03-17 13:28:35
7 Elevator Pitch Examples that Will Get Tech Buyers' Attention