While they have always been thought of as B2C tools, social media platforms can also bring B2B companies an advantage in terms of acquiring high quality B2B leads.
The numbers tell it as it is: According to CMO.com, at least 54% of B2B marketers reported to have generated leads using social media, with YouTube gaining immense popularity over everything else. However, B2B companies continue to use Twitter, LinkedIn, Facebook and Google Plus in their lead generation.
Callbox last year saw a considerable amount of generated traffic across its social media platforms. In its campaign, LinkedIn drove the most amount of traffic with 41.85%, followed by Google Plus with 17.01% and Twitter with 12.72%. Facebook, obviously more a B2C platform, came in at 8.02%. Even though attributed traffic was at 0.5%, the company's social media efforts provided quality leads with high conversion possibilities.
Try this! Update your LinkedIn Profile for a Better Lead Generation
These numbers simply express a telling sign that social media still has enough mojo to open up revenue opportunities. It goes to show that B2B companies should never at the moment write off social media from their marketing campaigns. In fact, analysts predict a sharp increase in social spending for 2015 as marketers seek better and more powerful online experiences for their audience.
Here are some added insights from Shareaholic contributor Danny Wong on what's in store for B2B suppliers in their social media campaigns:
        As a platform that knows everything about us (our lives, interests and friends), Facebook dictates the news we read, enables brands to promote targeted messages and offers, and is the #1 source of social referrals to sites around the web.
        Facebook sent 24.63% of the total visits publishers received in December 2014. Its share of traffic swelled 277.26% (18.10 percentage points) since December 2011. Over a comparable time frame, its user base grew 60%, from 845 million monthly active users (Nov 2011) to 1.35 billion (Sep 2014).
        Pinterest's share of traffic hit an all time high in March 2014 at 7.10%. But since then, its share has been in decline. Quantcast reports a similar trend too.
        Since December 2011, Pinterest's share of traffic has skyrocketed 684.86% (4.41 percentage points).
Bonus tips: Your Guide to the Best Social Marketing Platforms for 2015 (INFOGRAPHIC)
From the looks of it, Facebook and Pinterest are shaping themselves up as important drivers of B2B engagements. Competent use of marketing automation, however, should be noted to bring out the best in these platforms so they can provide the results you want.
Read our latest marketing news or Subscribe to our newsletter!
Dial +1 888.810.7464 / 310.439.5814
Grab a copy of our FREE EBOOK, Why You Should Bet Your Money on Digital Marketing (And Win)! We brainstormed ideas, analyzed data, and interpreted recent developments vis-à-vis previous trends before coming up with a realistic view of this year's marketing trends.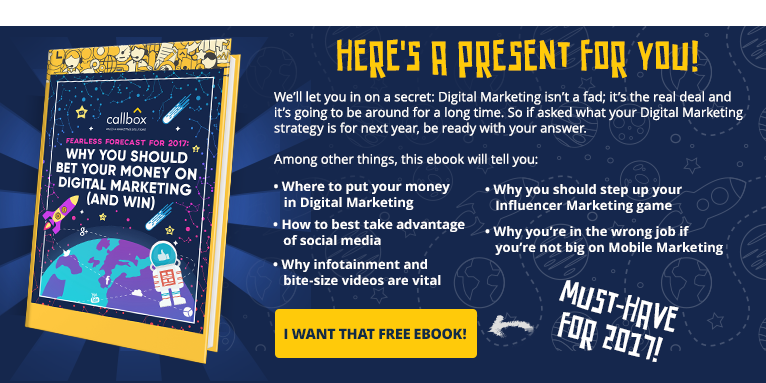 https://www.callboxinc.com/wp-content/uploads/2021/09/Featured-How-to-Improve-your-Sales-Prospecting-on-LinkedIn-in-3-Simple-Steps.webp
450
800
Rebecca Matias
https://www.callboxinc.com/wp-content/uploads/2021/07/callbox-logo.svg
Rebecca Matias
2021-09-03 03:38:07
2021-09-06 04:03:13
How to Improve your Sales Prospecting on LinkedIn in 3 Simple Steps
https://www.callboxinc.com/wp-content/uploads/2021/08/How-to-Become-a-LinkedIn-Thought-Leader.webp
450
800
Guest Author
https://www.callboxinc.com/wp-content/uploads/2021/07/callbox-logo.svg
Guest Author
2021-08-18 06:00:00
2021-08-18 03:49:01
How to Become a LinkedIn Thought Leader
https://www.callboxinc.com/wp-content/uploads/2020/02/The-Ultimate-Guide-to-Killer-B2B-Social-Media-Marketing-Strategies.jpg
450
800
Contributor
https://www.callboxinc.com/wp-content/uploads/2021/07/callbox-logo.svg
Contributor
2020-02-26 08:00:44
2021-07-27 00:13:15
The Ultimate Guide to Killer B2B Social Media Marketing Strategies [GUEST POST]