Twitter, for all its worth, is an effective marketing tool. If used effectively, marketers are able to benefit a lot just by posting in 140 characters or less. But let's emphasize the word "effective." How can you really gauge the effectiveness of using a popular social media platform? Well, for Gary Vaynerchuck, it only means avoiding the Number One Mistake on @Twitter. What is it? Take a gander at this slideshow to know what's up.
So, let's recap. The one thing that many marketers flout is the use of the @ sign. As what Vaynerchuck has noted, placement is part and parcel of effective Twitter marketing. Continuing to put @ as the first character in your tweets won't do your campaign any justice.
So, be a wise Twitter marketer and follow what Vaynerchuck has done to effectively use what could be an essential function that many marketers have ignored. Well, except you of course.
And while you're at it, take time to view other essential social media marketing stories and learn as much as you can about building a solid brand onl
Broaden your skills today! Read more social media tips on The Savvy Marketer's Blog
Subscribe and get our FREE Ebook!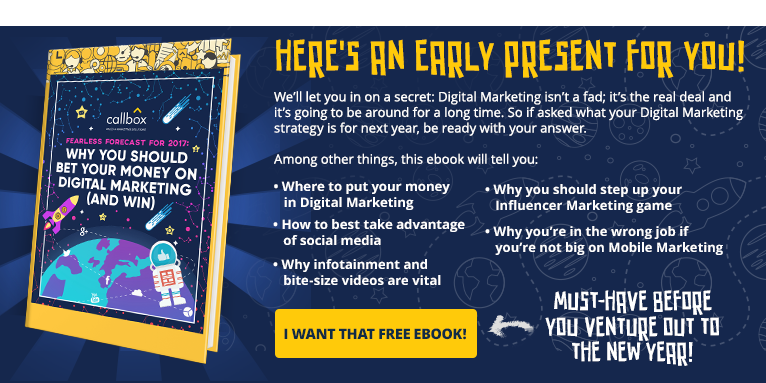 https://www.callboxinc.com/wp-content/uploads/2021/09/Featured-How-to-Improve-your-Sales-Prospecting-on-LinkedIn-in-3-Simple-Steps.webp
450
800
Rebecca Matias
https://www.callboxinc.com/wp-content/uploads/2021/07/callbox-logo.svg
Rebecca Matias
2021-09-03 03:38:07
2021-09-06 04:03:13
How to Improve your Sales Prospecting on LinkedIn in 3 Simple Steps
https://www.callboxinc.com/wp-content/uploads/2021/08/How-to-Become-a-LinkedIn-Thought-Leader.webp
450
800
Guest Author
https://www.callboxinc.com/wp-content/uploads/2021/07/callbox-logo.svg
Guest Author
2021-08-18 06:00:00
2021-08-18 03:49:01
How to Become a LinkedIn Thought Leader
https://www.callboxinc.com/wp-content/uploads/2020/02/The-Ultimate-Guide-to-Killer-B2B-Social-Media-Marketing-Strategies.jpg
450
800
Contributor
https://www.callboxinc.com/wp-content/uploads/2021/07/callbox-logo.svg
Contributor
2020-02-26 08:00:44
2021-07-27 00:13:15
The Ultimate Guide to Killer B2B Social Media Marketing Strategies [GUEST POST]