Have you ever wondered how you could take Instagram marketing to the supreme level? Have you ever considered the implying of the various tools that support your practices out there for making your marketing techniques successful?
Integrating has best tools with your marketing strategy can aid you in presenting the much professional impression and let you have the most viable analytic insight.
That is the reason why Facebook has purchased Instagram as the owners have seen it getting tremendously successful in marketing prospects and don't consider it a tool used for just photo sharing but as an important section of the social media network. It works like Twitter for photos.
Instagram serves as the best platform which can work for maintaining the high-quality marketing experiences. Here are few top tools which are mentioned below that can help you a lot in improving the Instagram marketing.
1. Put filter on your images for making a signature look
The foremost stage of making the any Instagram account successful platform for marketing is to describe your company's objectives. The images which you upload there is a strong replication of your business, and what you want to deliver to your target market by creating an emotional affiliation with your customers.
It is necessary that your photos have a cohesive approach which integrates with your brand or product.
A Color Story is the tool that can assist you in this. This tool makes it much easier to tune the pictures in a fine way and give them a professional texture before updating them to Instagram.
Related: Using Social Signals to Spot Sales-Ready Leads
2. Scheduling Instagram Posts
Most often, various life events may hinder the flow of updating your Instagram posts. You can't remain attached to your phone at every moment. You may need few hours or days off, that may be just one day. Well, if you are using a promising online platform for the marketing purposes, then your phone is the most important device to work it out, as you don't remain offline for much time.
During this time, the competition in the market is overall quite severe. Furthermore, you have to be online on the social media accounts to make a standout and manage the schedule of your posts by using the tool like ScheduGram, which allows you to make a post instantly on the Instagram account or make a schedule for creating the posts for the given period.
Related: 5 Ways of Using Instagram to Earn More Business Returns and Profit
3. Keep track of the performance of Instagram Content
You may desire to work on a complete strategy before making an Instagram post. Are you one of those people who try to make their audience driven towards their posts, make a comment, or visit your website? Once you have made your objectives clearer about how you want to carry out the marketing through Instagram, it is essential to keep track of the way you are taking to achieve these goals.
You can make use of different Instagram analysis tool such as SimplyMeasured or Iconsquare or for tracking your status and collecting your statistical data so that you can see if your marketing approach is workable or not.
Related: The Ultimate How to Guide for BeBee
4. Get more likes & followers on Instagram
There are certain tools that help you to get real Instagram likes, followers, and views such as "Vibbi" through which you can get 100 likes for each $2.97. It has got many other features too including free comments, 24/7 customer support, faster delivery and no passwords locks. Vibbi is one of the excellent tools which is presently available that allows your business to buy followers and likes legally.
5. Repost – Share Others' Posts
If you want to get a good Instagram feed, it is necessary to make a sharing, supporting and appealing community there. It is one the finest things to do for making your business competent. If you want to integrate with and get support from your Instagram audience, it is important to reciprocate your content and you should remain more active.
Sharing the content in an immense way can create a strong relation with your followers. There is a tool, "Repost for Instagram," available for both Android and iOS platforms which makes it much easier to repost the Instagram pictures to your feed while sharing the content and giving credits to other users.
Author Bio:
Qurban Shah is a freelance writer who offers blogging, ghostwriting and copywriting services. He works closely with businesses providing digital marketing solution that increases brand awareness and search engine visibility. He's currently working for Vibbi.com, that provides quality Instagram followers, likes, and views.
Learn More about content marketing on The Savvy Marketer's Blog!
Subscribe to our newsletter and
Grab a copy of our Latest B2B Marketing Ebook. It's FREE!
Must-Have FREE Ebook: Why You Should Bet Your Money on Digital Marketing (And Win)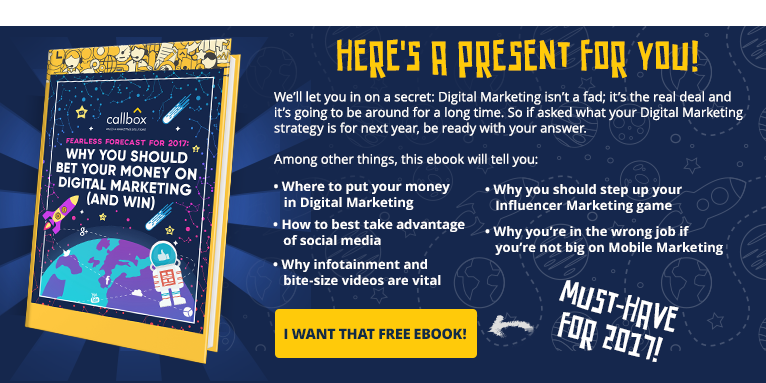 https://www.callboxinc.com/wp-content/uploads/2023/08/Tech-Savvy-Labor-Day-Marketing-Tips-to-Boost-Sales.webp
450
800
Rebecca Matias
https://www.callboxinc.com/wp-content/themes/enfold-child/assets/images/callbox-logo.svg
Rebecca Matias
2023-08-31 13:32:23
2023-09-06 10:31:45
Tech Savvy Labor Day: Marketing Tips to Boost Sales
https://www.callboxinc.com/wp-content/uploads/2023/08/HealthTech-Marketing-Strategies-for-Q3-and-Beyond.webp
450
800
Judy Caroll
https://www.callboxinc.com/wp-content/themes/enfold-child/assets/images/callbox-logo.svg
Judy Caroll
2023-08-08 09:15:01
2023-08-08 16:10:58
HealthTech Marketing: Strategies for Q3 and Beyond
https://www.callboxinc.com/wp-content/uploads/2023/07/Haunting-Marketing-Lessons-from-Insidious-The-Red-Door.webp
450
800
Judy Caroll
https://www.callboxinc.com/wp-content/themes/enfold-child/assets/images/callbox-logo.svg
Judy Caroll
2023-07-19 15:02:54
2023-08-22 14:17:02
Haunting Marketing Lessons from "Insidious: The Red Door"