​Instagram​ has become a marketing powerhouse. Around the world, so many people use Instagram every day, and that number just keeps growing. Instagram recently announced on its official blog​ that it has more than 600 million Instagrammers. No matter what business you are in, Instagram has become a must-have social media channel to reach a wider audience. Every brand is now making use of this platform efficiently.
Instagram is free, and its visual features make it more prominent compared to other social media channels. Not only big brands, but even small businesses can also be able to gain a huge follower base on Instagram if they are consistent and follow certain simple marketing tactics.
Why should a brand be on Instagram?
With the potential to reach many, it is evident for brands to be on Instagram to tap the abundant opportunities available. Acquired by Facebook in 2012, Instagram has gained a real momentum along with trust and authenticity.
While many businesses just wonder which platform to choose for their marketing channel to grow insanely, some are killing it with their presence on Instagram. If you are into traveling, food, fashion, and fitness business, it is a must for you to be on Instagram.
Here are five simple reasons why a brand should be on Instagram,
​To showcase their products and services

To increase their brand reach to the potential customers

To engage with their audience and drive targeted traffic

To share company news and updates

To build a real follower base and a community around the brand
No doubt, Instagram is becoming one of the largest social media channels with its active members increasing day by day. The astonishing fact we should consider here when it comes to Instagram is, it has doubled its user base in just two years to 700 million monthly actives as reported by Tech Crunch in a recent article. It is time for every business to use this as one of the important marketing channels.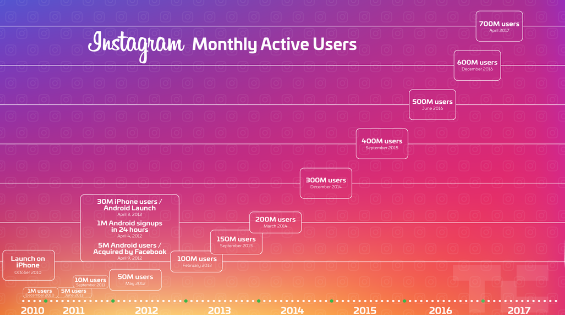 Image source: Tech Crunch
Instagram marketing tips
With such a huge user base, considering Instagram for the marketing activities is not a bad idea. Visually appealing and useful images always help position your brand and increase credibility. Instagram sure has all those features to showcase your products and services in a more better way compared to other social media channels.
Here are ten noteworthy Instagram marketing tips for entrepreneurs
#1. ​Use a variation of hashtags and geotags that are popular with users.
Hashtagify​ is the best tool to find the recent and most popular hashtags that you can use in your posts. Hashtags play a vital role in Instagram marketing.
#2. Write a catchy bio with a link where you want to direct your audience.
You can only share one link on your bio, but you can use this tool 'linktree​' to add multiple links to different sources, and this is how you can distribute your traffic from Instagram.
#3. Use quotes in your posts from experts and famous personalities in your industry that people already know.
Use watermark on the images with your logo. Updates with quotes by famous personalities have high interaction rate on Instagram. You can use tools like Canva to first brand your images with your logo and text from your desktop or you can use apps like Quick to share text on your images from your mobile. Who knows, these images might just go viral.
Related: 5 Instagram Tools to Improve Your Marketing [GUEST POST]
#4. Consistency is the key on Instagram. Maintain a clear schedule, show real faces and people in your updates.
It somehow increases your bond with the audience when you show real people using your product or service on Instagram. Use testimonials to gain the trust, and this encourages others to try your product.
#5. Follow people who are new to Instagram and start interacting with their posts.
The probability of them following you back is more. Make relevant comments and not just for the sake of doing it. The big boys out there may not notice you, but the newcomers will often see who followed them and what they do.
#6. Use the Instagram live option to give tips, share anything related to your product, features, how to use, etc.
Also, take your customers along with you wherever you go, to any events and conferences through the Instagram live feature. It gives you an edge over others when you find new ways to go live and engage with your audience.
#7. Get to know Instagram influencers who have a decent follower base and try to make connections with them.
Ask them to share updates about you and mention you; this helps you gain more followers and branding. Use the tool BuzzSumo​ to find Instagram influencers.
Related: 5 Ways of Using Instagram to Earn More Business Returns and Profit [GUEST POST]
#8. Use Instagram stories to showcase your products.
Stories give more power since you can enhance the images with more than just filters. Stories can be used to show your audience behind the scenes at your company, direct them to your new blog, landing page, contest, etc
#9. You need real insights to take some actions to grow your Instagram follower base with proven facts.
Without a proper analysis, you will not know what is working and what is not, so, with this tool INK361​, you will be able to access profound insights into your Instagram account, grade your performance, and benchmark against competitors.
#10. Show people that you care about others posts and updates, this is how you get noticed easily.
Repost App helps you give credit to the user-generated content. Sharing content that matters to your business is really good, and since you know something has caused a real engagement, you too can expect the same when reposted. This tool will help you strengthen the relationship between you and the other profiles you use to repost.
With the right tools, consistency, and proper message, Instagram has the potential to become one of the most influential social channels for the brands, and we are seeing this happening already. Take any industry, you can find influencers on Instagram building their follower base. Instagram offers a wide variety of different tools, with great support. Find the ones that meet your requirements, and start improving your social media marketing strategy.