A Quora member would like to find out the important digital downloads in sales outsourcing and lead generation that most salespeople and marketers include when sending information about their products or services.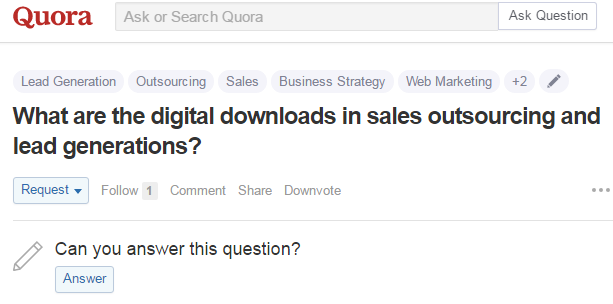 I don't know about you but I personally hate reading long emails. Most people don't like it, especially if they feel like they're being "sold to". So, instead of sending out long emails to your target audience in order to provide them detailed information about your products and services, there's a better way to do it and avoid having deleted emails in the future.
Digital downloadable files can used texts and images to provide detailed information about your products and services without having too much information for people to read to.
Here are some of the important digital downloads in sales outsourcing and lead generation to educate your target audience about your products or services which can help generate sales for your business.
Brochures.
They are a small book or magazines that contain pictures and information about a product or service. Some thinks it's an outdated marketing tool but showing off your brochures to people is another way of getting their attention to your business as it goes straight to them in your marketing list.
Brochures can help boost sales because it provide customers a direct but more descriptive information as a way to brand and let prospects be aware of your products and services.
Check all our samples brochures here!
Here's how to make your brochures more effective.
EBooks
.
It is an electronic book consists of text, images or both that is readable on computers and other electronic devices. Reaching out to prospects is a good marketing strategy. And by sending information through emails and direct mails will help increase sales. However, one must be creative when reaching out to target audience.
Since eBooks consists of text and images, and are usually for educational purposes, it is a good way to send out eBooks without annoying your prospects. It would be a great opportunity to showcase expertise and in-depth knowledge about our services as one way to convince prospects.
Related: 'FREE' Lead Generation Ebooks From 3 Best Brands
Here's a sample Callbox Ebook:
Read the 10 Tips To Boost Your EBook Sales on how to create good eBooks that generates sales!
Infographics.
Visual infographics can help drive sales for your business. Businesses are creating infographics to tell their sales stories in a more interesting way than a traditional PowerPoint Presentation.

TIP: Infographics work best if people are looking at it through the drawings. So create one that's interesting to your target audience. Don't let your infographic focus too much on selling. There are readers who are only looking for some interesting information but don't have intentions of buying at all.
Related: How to Effectively Use Research in Creating Marketing Infographics
Case Studies
Case Studies are success stories that show situations and results. It's a powerful tool that can help increase sales for your business as it is based on facts. How to write a case study and what questions to ask during interviews can be a bit tricky as they seem overwhelming.
Here are some guides on how to write a case study that can boost your sales.
Provide a brief overview of the client or customer.

Describe the challenges encountered. Discuss specific pain points, struggles to make things work and what you did to find a solution.

Explain the process in finding a solutions, both considered and rejected. Describe the solution that works and how it works. Put emphasis on why they chose you over your competition.

Outline the benefits achieved by implementing the solution.
Use some of our case studies as your guide when creating case studies or tweak it to fit your situation.
Videos
Videos are becoming more and more popular in promoting products and services.  It has the ability to provide customers information about how your products works and give them detailed information on what's included in your services. Videos are clickable and people are more likely to share videos than a simple text page. Also, customers are more likely to click on a video thumbnail than on something with no visual element.
Here's a sample video for your reference:
Related: SMART Calling: What's the Edge?
Create and send digital downloads to your target audience using these guides and start boosting your sales and leads.  
Need a boost in sales and revenue?
Dial 888.810.7464
https://www.callboxinc.com/wp-content/uploads/2016/07/What-are-the-important-digital-downloads-to-share-in-sales.jpg
352
800
Judy Caroll
https://www.callboxinc.com/wp-content/uploads/2017/10/callbox-logo.png
Judy Caroll
2016-07-21 08:45:44
2016-08-03 04:07:07
Answering Quora: What are the Digital Downloads in Sales Outsourcing?