Lead Qualification Services
Don't waste your "A" material

In a perfect world, to ensure the best results, you would be giving it 100% every time you give a sales presentation, whether you give it 3 times or 30 times in a day. But you're no machine and can't expect to give each and every lead the same high level of attention and courting every time.
This is why you want ONLY QUALIFIED LEADS to present to. Filter out the weeds and leave only the viable leads. When you know you're barking up the right tree, you wouldn't mind giving it your best shot all the time, giving you a better chance at closing the deal right from the get go. Our Lead Qualification programs ensure you don't waste your time, energy and "A" material on the uncloseables — your time is precious, make every sales pitch and presentation count.
With every program, we bring 14 years of solid lead qualification experience and the benefits of our managed Multi-Channel Marketing automation capabilities – your leads generated through voice, email, social, web and mobile marketing. Equipped with an understanding of your business requirements, we design a lead generation solution that delivers simply what you need: qualified sales leads and appointments.
Callbox is proud to help the world's most successful brands achieve their sales and marketing goals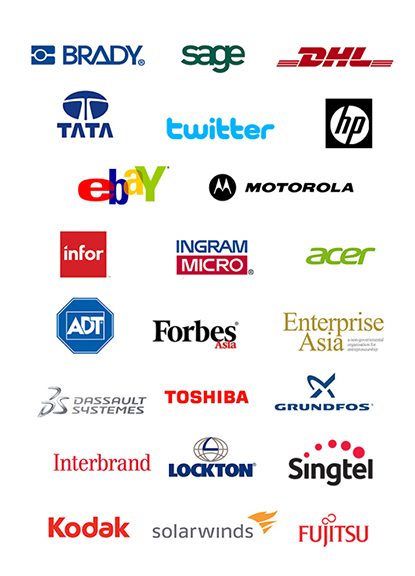 .
I love the integrity with which you work. I'm so grateful to have you on my team, I love the passion with which you do your step of our process.
Ian Warner, CEO, Aprio Governance Information Software
I had a wonderful experience with Callbox starting from the Sales team to the Campaign Execution team. For us, they are an extension of our sales & marketing team. They can execute well if given good guidance in the beginning of the campaign. They do not shy away from putting extra work in making your campaign successful. It is a hard working, talented team and I would love to continue to work with the team in the future for 2015 campaigns.
Shilpi Sharma, Kvantum Inc.
Both our prospects today have signed up (verbally) to the system! Well done – you're doing such an awesome job.
Helen Joronen, CEO, Greenkeeper Systems
They tell me that I am lucky to have such a great person working for me. I am so thankful to Tricia, to you and to your entire team for working so hard to make me look so good!
Dwight Holcomb, Managing Director, HC Development, Inc.
How We Help Businesses Succeed
We keep any info you share with us private and confidential. For more on how we process and protect your data, please review Callbox's
Privacy Policy
SINGAPORE

+65 3159 1112

AUSTRALIA

+61 (02) 9037 2248

MALAYSIA

+60 (3) 9212 5776

NEW ZEALAND

+64 9914 3122

HONG KONG

+852 3678 6708

COLOMBIA

+57 601 508 4456

UNITED KINGDOM

+44 (207) 442 5066
General Inquiries

Media Inquiries

Sales Assistance

Job Inquiries
4924 Balboa Blvd. #353, Encino CA 91316 USA