When it comes to engaging sales prospects, it is vital to have a proper understanding of the approaches typically applied. It all boils down to the types of appointment setters that comprise your team.
As appointment setter types vary, you must find out their strength to maximize their fullest potential. Let's get a closer look with this infographic!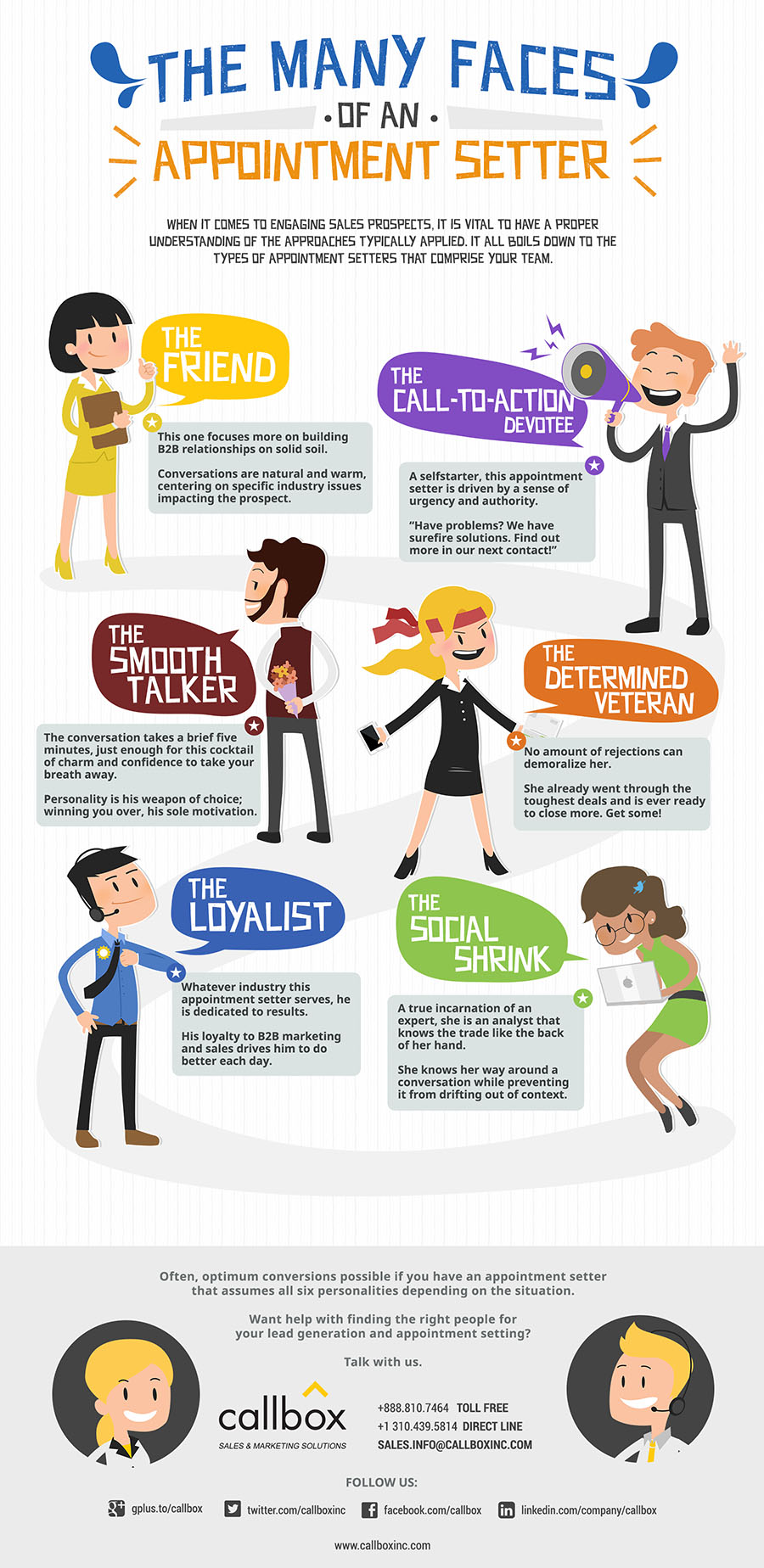 The Friend
This one focuses more on building B2B relationships on solid soil. Conversations are natural and warm, centering on specific industry issues impacting the prospect.
The Call-to-Action Devotee
A self-starter, this appointment setter is driven by a sense of urgency and authority. "Have problems? We have surefire solutions. Find out more in our next contact!"
Check this out! How Underscoring Appointment Setting Urgency Get You More Sales
The Smooth Talker
The conversation takes a brief five minutes, just enough for this cocktail of charm and confidence to take your breath away. Personality is his weapon of choice; winning you over, his sole motivation.
The Determined Veteran
No amount of rejections can demoralize her. She already went through the toughest deals and is ever ready to close more. Get some!
The Loyalist
Whatever industry this appointment setter serves, he is dedicated to results. His loyalty to B2B marketing and sales drives him to do better each day.
The Social Shrink
A true incarnation of an expert, she is an analyst that knows the trade like the back of her hand. She knows her way around a conversation while preventing it from drifting out of context.
Often, optimum conversions is possible if you have an appointment setter that assumes all six personalities depending on the situation.