When dealing with other business decision-makers, one thing must always remain at the top. And that is building rapport.
The B2B industry, for the most part, involves a lot of linkages. But the most important thing is how you actually maintain professional relationships with your clients. There is a difference between treating business prospects as customers and treating them as friends you can have coffee with on a Sunday afternoon. As things go in B2B marketing, you might want to opt for the latter.
But aside from forming significant engagements, building rapport is also integral to generating qualified sales leads. When you start interacting with clients at a more benevolent level, you will start to feed the sales pipeline with prospects with a high inclination to buy a product.
How do we do it exactly? Well, first:
Personalize.
Don't settle for messages that sound too technical and well, robotic. Instead, go for newsletters and other digital campaigns that strike the right chords in your prospects. In terms of telemarketing, businesses respond effectively to talking points that have a natural flow instead of being read from a script.
Related: Who Says Telemarketing Can't Drive Leads Further Down the Sales Funnel?
Advice.
Your prospects will find it helpful if you can consult them on the things they want to address. Whether it be tips for maximizing the use of a POS system or tidbits on how to make an enticing website, as long as they mean something for your clients and their bottom line, you may want to consider creating a blog and social media marketing campaign with an audience advocacy component.
Related: Want to Increase POS Software Sales? We Got you Covered Fam
Create.
More than text-based content, businesses nowadays respond better when they encounter visual messages. Infographics are still the best ways to gain prospects' imaginations and communicate your ideas effectively. Here's how to Fine-Tune Your Next Content for Visual Learners.
It is just a matter of knowing what type of content is most suitable to the type of industry you want to target. You can start by using Cat Memes or YouTube tutorial videos to stimulate interest in your brand.
Deliver.
We come to a point that the prospect knows you all too well and that a sale is just over the horizon. And this is where businesses often struggle the most. Think of it as a minefield. You have gone this far, but one step can be fatal. So, as much as possible, try to maintain interest and deliver what the prospect expects from you. If it all goes well, then you just gained a sale – and a new friend (Awwww).
Lead generation and appointment setting involves more than just the four aspects mentioned above. Want more juicy tips to maximize your marketing and gain quality leads? Read more from our blog and discover just how much you can do to put your revenue generation to fifth gear!
Let us help you generate leads, learn more about process!
Read our latest marketing news or Subscribe to our newsletter
Dial +1 888.810.7464 / 310.439.5814
Grab a copy of our FREE EBOOK, The Ultimate Lead Generation Kit Ebook! Updated with links to the best and latest techniques that will help generate quality sales leads for your business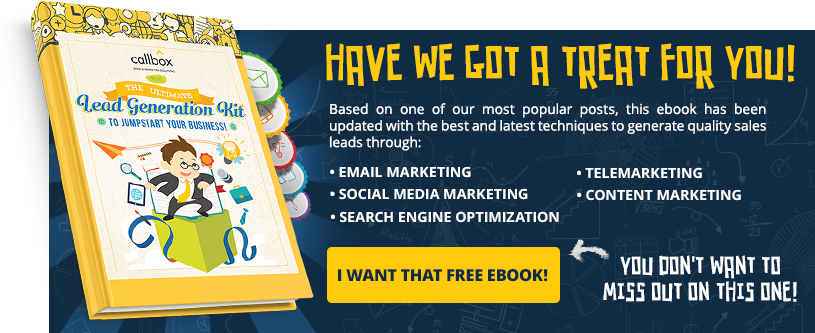 https://www.callboxinc.com/wp-content/uploads/2022/06/Title-featured.webp
450
800
Melody Esteban
https://www.callboxinc.com/wp-content/uploads/2021/07/callbox-logo.svg
Melody Esteban
2022-06-22 06:00:00
2022-06-22 09:42:33
6 Things to Know When You Start B2B Appointment Setting
https://www.callboxinc.com/wp-content/uploads/2022/06/Featured-title.webp
450
800
Melody Esteban
https://www.callboxinc.com/wp-content/uploads/2021/07/callbox-logo.svg
Melody Esteban
2022-06-15 06:00:00
2022-06-23 10:36:11
What to Do after Lead Generation: The Ins and Outs of Appointment Setting