Promoting your business does not only involve the use of social media channels. You still need to promote it offline. After all, it's not every time that you find a potential customer online. There are, in fact, prospects who are visible offline as well.
What's more, you will realize there is less competition when you conduct your lead generation campaigns outside the web. Most companies anyway rely primarily on social channels, so you wouldn't have to worry about not getting the exposure you need offline.
Another thing to consider is the fact that offline promotion does not have to dry out your resources. There are tons of ways for marketers to acquire high-quality leads without the use of a landing page or a social media account.
But what are these techniques?
Cold calling.
Some say cold calling is outdated. But while it may seem like a primitive way to acquiring high-quality leads, cold calling can still provide you with advantages that social media channels could barely outrank. One of these advantages is outreach. Prospects want instant responses to inquiries, which is exactly what talking to a telemarketer entails. In addition, cold calling can also lead to better relationships as you are allowed flexibility in terms of crafting talking points that will keep a prospect interested in you.
Cold calling pointers to get you started:
Direct mail.
Yet another "pre historic" marketing technique, but not one that is ineffective. At present, people are more excited to receive mail and postcards than to receive promotional emails from companies.Use postcards to grab attention and stir interest. You may also consider giving out a freebie along with your mail.
Related: Inbound and Outbound Strategies are Match Made in Marketing Heaven
Published ads.
For companies that want to tap a specific market, they can always consider publishing ads in magazines and newspapers. We all know about how print is going to die out soon, but there are still people who prefer print media for some reason. Certain groups like artists and seniors are more likely to read news on printed pages. To attract these niches, you only have to create appealing ad copy and visuals that point them towards you.
Seminars and corporate events.
Want a more effective way to generate leads via direct engagements. Then, events such as trade shows, seminars, and conferences are the right techniques to consider. Through these, you can position your brand to a large audience.
Event marketing pointers to get you started:
How to get Tangible ROI in Joining Events
Event Marketing: Four Important Tips to Push Attendances
Published articles.
If you can't a number of attendees, allowing you to allot more power in terms of securing credibility. In niche marketing, publishing promotional stories and features will attract the right market towards you. The community will be aware of your services and products in no time, especially if you published in a well-respected magazine or folio.
Referrals and testimonials.
If all else fails, you can always make use of reviews and testimonials from previous and existing customers. These, along with referrals, give your brand the boost it needs to widen its reach and acquire more qualified leads. Nothing still beats the authority of the people who already are familiar with you.
Related: Building Tremendous Credibility and Make Clients Refer You
Read our latest marketing news or Subscribe to our newsletter!
Dial +1 888.810.7464 / 310.439.5814
Grab a copy of our FREE EBOOK, The Ultimate Lead Generation Kit Ebook! Updated with links to the best and latest techniques that will help generate quality sales leads for your business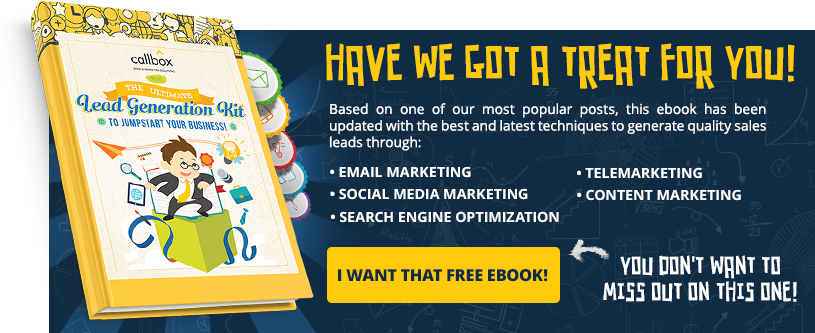 https://www.callboxinc.com/wp-content/uploads/2022/04/6-Cutting-Edge-Lead-Gen-Strategies-for-Non-Tech-Industries.webp
450
800
Melody Esteban
https://www.callboxinc.com/wp-content/uploads/2021/07/callbox-logo.svg
Melody Esteban
2022-04-05 06:00:00
2022-04-05 02:35:03
6 Cutting-Edge Lead Gen Strategies for Non-Tech Industries
https://www.callboxinc.com/wp-content/uploads/2022/03/Top-4-tips-and-tricks-to-increase-b2b-sales-leads.webp
450
800
Guest Author
https://www.callboxinc.com/wp-content/uploads/2021/07/callbox-logo.svg
Guest Author
2022-03-29 06:00:00
2022-03-29 17:45:41
Top 4 Tips and Tricks to Increase B2B Sales Leads
https://www.callboxinc.com/wp-content/uploads/2022/03/7-elevator-pitch-examples-that-will-get-tech-buyers-attention.jpg
450
800
Melody Esteban
https://www.callboxinc.com/wp-content/uploads/2021/07/callbox-logo.svg
Melody Esteban
2022-03-16 06:00:00
2022-03-17 13:28:35
7 Elevator Pitch Examples that Will Get Tech Buyers' Attention