In terms of generating qualified leads through email marketing, marketers should always be mindful of the kind of content they want to churn out.
In today's B2B arena, creativity is one of many factors in your campaign that can help you reel in the right prospects. So, it means a great deal to focus on creating content that will push prospects to engage in the long-term.
Newsletters, for one, are essential in placing your brand front and center. It will, therefore, mean a lot in your campaign to craft newsletters that strike a balance between being attractive and being informative. Basically, you need these two qualities to create a digital newsletter campaign that will produce the results you wanted in the long run.
Not sure how to make your newsletters fetching? Well, you can always follow these simple tips wouldn't want to miss out on.
Hook up with an effective mailing service.
Prospects are less likely to open their emails knowing they come from a personal account. With this in mind, it is essential to hook up with a mailing service that allows you to engage those who want to get a regular dose of information via your newsletters. Services such as MailChimp are a good start, so why not make an inquiry right now?
Related: Slaying Your (Mailer) Daemons and Reducing Email Bounces
Stop praising yourself.
The one mistake that most marketers often make is bragging. Newsletters should always put the prospect at the center of everything, and try to force your way into their hearts wouldn't do any good. People want to be informed. More importantly, they want their fill on the issues that strike a chord. So, instead of telling how good and competitive your brand is, try to provide your take on an issue that your prospects want to solve.
Related: The Pick-up Lines of Email Marketing: How to Increase Open Rates In Just a Few Words
Make reading less of a chore.
The reason why most newsletter campaigns fail is that of wordiness. Sure, people want to gain a lot of information from you, but it doesn't mean you should PUT EVERYTHING DOWN. As much as possible, create newsletters that make reading less of a hassle. But if you really want to get your audience well-informed, you can always include links that direct them to your site.
Related: 3 Design Best Practices to Fine-Tune Your Next Content for Visual Learners
Inspire and incite.
Let's say your prospect has just finished reading your newsletter. Now what? Well, a good newsletter should always have an effective call-to-action in the end. The point of it is to take your prospect from this stage of the engagement and into the sales pipeline. You might as well make he or she read a blog post or try out a new product for free.
What are other ways you can do to prep up your newsletter campaign? Share your thoughts in the comments below.
Learn more content marketing and lead generation tips at The Savvy Marketer's Blog!
Love to know how we generate qualified leads?
Get in touch with our Marketing Consultant or Dial +1 888.810.7464 or 310.439.5814
Grab a copy of our FREE EBOOK, Why You Should Bet Your Money on Digital Marketing (And Win)! We brainstormed ideas, analyzed data, and interpreted recent developments vis-à-vis previous trends before coming up with a realistic view of this year's marketing trends.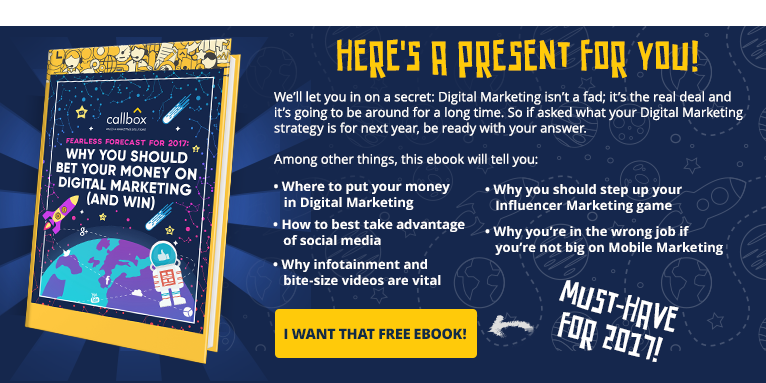 https://www.callboxinc.com/wp-content/uploads/2022/04/6-Cutting-Edge-Lead-Gen-Strategies-for-Non-Tech-Industries.webp
450
800
Melody Esteban
https://www.callboxinc.com/wp-content/uploads/2021/07/callbox-logo.svg
Melody Esteban
2022-04-05 06:00:00
2022-04-05 02:35:03
6 Cutting-Edge Lead Gen Strategies for Non-Tech Industries
https://www.callboxinc.com/wp-content/uploads/2022/03/Top-4-tips-and-tricks-to-increase-b2b-sales-leads.webp
450
800
Guest Author
https://www.callboxinc.com/wp-content/uploads/2021/07/callbox-logo.svg
Guest Author
2022-03-29 06:00:00
2022-03-29 17:45:41
Top 4 Tips and Tricks to Increase B2B Sales Leads
https://www.callboxinc.com/wp-content/uploads/2022/03/7-elevator-pitch-examples-that-will-get-tech-buyers-attention.jpg
450
800
Melody Esteban
https://www.callboxinc.com/wp-content/uploads/2021/07/callbox-logo.svg
Melody Esteban
2022-03-16 06:00:00
2022-03-17 13:28:35
7 Elevator Pitch Examples that Will Get Tech Buyers' Attention