As B2B marketers, we often find ourselves exerting a great deal of effort and investing a great deal of resources into our lead generation campaigns. In fact, most B2B companies nowadays consider lead generation an important part of their marketing and an even more crucial driver of sales. Still, lead generation can still be pretty daunting for a lot of B2B companies.
As HubSpot puts it, at least 63% of marketers in 2017 cite "generating traffic and leads" to be the most challenging part of marketing.
With that said, companies will need to focus more on optimizing their marketing campaigns and initiating improvements to make them even more effective in drawing a good bulk of B2B leads into the pipeline.
To best way to start is to simply look at your lead generation from several viewpoints and ask yourself these questions.
Does my content attract leads?
Content is basically what matters if you aim to increase traffic and revenue. In that respect, you should be able to know what type of content to use that will trigger the most engagements. A high bounce rate and low conversions should tell you something about your content marketing. More specifically, it should encourage you to explore better ways to attract prospects and at the same time, secure better visibility for your brand.
Related: 12 Tools to Hack Your Content Creation Workflow [Plus Free Content Calendar]
How specific is my inbound marketing strategy?
A lot of companies find it difficult to maintain good numbers in their lead generation. And it all boils down to strategy. Knowing that you wouldn't be able to generate a good number of leads without a detailed blueprint, you should be able to create a strategy that addresses the concerns of both sales and marketing. This way, you will be able to implement a more robust lead generation campaign.
Related: The Greatest Marketing Strategy Question: Inbound or Outbound?
How much do I convert in a day?
Conversion rates matter because they tell you everything you need to know about your marketing efforts as a whole. More importantly, these numbers show how many of your site visitors would become leads and how likely they will end up purchasing a product or service from you.
Related: Creating Appeal: How to Promote a Product People Don't Search For
How accurate do I score my leads?
Lead scoring is an essential activity since it allows you to focus your resources to areas of high opportunity. It is important then to keep tabs on your lead scoring system and determine if it does precisely gauge a lead's likelihood to buy. A poor lead scoring system, on the other hand, makes it hard to determine the effectiveness of your campaign and, consequently, prevents you from optimizing it for the better.
Related: Weeding Out Junk Leads with Predictive Lead Scoring
How much revenue do I get from my campaigns
Aside from marketing metrics, your revenue also points towards your campaign's effectiveness. It is in this case that you will have to look at your gains for the month and see if you can attribute these to your lead generation activities. High numbers obviously mean that your campaign as going well and you should be able to keep it up.
Get to know Callbox even better. Watch our video
Get qualified and industry targeted leads today! Dial +1 888.810.7464
Grab a copy of our FREE EBOOK, The Ultimate Lead Generation Kit! Updated with links to the best and latest techniques that will help generate quality sales leads for your business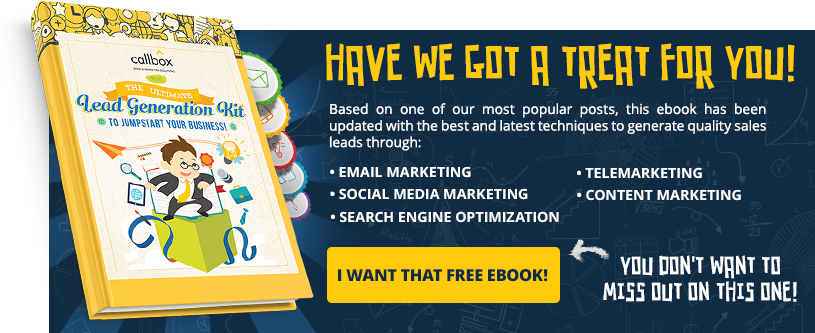 https://www.callboxinc.com/wp-content/uploads/2022/06/Title-featured.webp
450
800
Melody Esteban
https://www.callboxinc.com/wp-content/uploads/2021/07/callbox-logo.svg
Melody Esteban
2022-06-22 06:00:00
2022-06-22 09:42:33
6 Things to Know When You Start B2B Appointment Setting
https://www.callboxinc.com/wp-content/uploads/2022/06/Featured-title.webp
450
800
Melody Esteban
https://www.callboxinc.com/wp-content/uploads/2021/07/callbox-logo.svg
Melody Esteban
2022-06-15 06:00:00
2022-06-23 10:36:11
What to Do after Lead Generation: The Ins and Outs of Appointment Setting