It remains to be seen how IT solutions will evolve in the future. At the moment, conferences and trade shows here and there have churned out concepts and ideas that will give us a glimpse of what the future holds for this highly competitive industry. To be sure, we only need to look at how IT and software companies are trying to develop something new for consumers as well as enterprises.
But aside from improving their current portfolio of IT products and services, these companies should also concentrate on seeking out and engaging potential buyers. The challenges presented by changing market demands remain to be a crucial issue – and obviously, this issue also hinders revenues from increasing.
It is true that both the IT and software sectors are the most successful in terms of profitability, but there is still a need to know which marketing approaches that will make you the most successful brand in terms of competitiveness. Knowing the right methods for generating high quality IT sales leads becomes an essential factor your business cannot live without. Check out these latest techniques that will help generate quality sales leads for your business.
Gather intelligence.
The IT and software industries run on information. They are molded by it and they thrive by it. As such, information also becomes an essential part in the planning and implementation of all marketing activities. It, therefore, makes sense to consider studying the market first. What trends do you need to consider? What do other IT companies apply to promote their products and solutions? Such information supplies you with everything you need to develop better ideas for engaging prospects and impacting the bottom line. Learn about the Top 7 Trends in Software and IT Industry: What to Expect?
Eschew technicalities.
There's no problem with getting geeky about the products you promote – as long as you are promoting them to people who actually know the essential terms and language. For prospects who do not possess the same level of IT fluency as you, you should always assume that these types of prospects want to be educated. The last thing they want is to be flooded with IT jargon. Whatever you do, don't go down this path. Always make sure that your messages get directly to your prospects by keeping technicalities to a minimum.
Related: 5 Lessons From Epic Tech Flops That Will Make You Better At B2B Sales
Listen and ask questions.
When it comes to lead generation and appointment setting, you should always consider your prospects' demands and ask them relevant questions that will eventually result in a commitment. With that said, always take notes of any keywords or phrases that are worth something. Such information can help you make better messages that resonate well with your prospects, making it easier for you to reach a closed deal. Read more about 4 Email Closing Lines That Close Deals (Backed by Concrete Results)
To be able to do this, you have to get skilled telemarketers on board. With this corps of talents, you won't be able to have any trouble following up and reaching a deal.
Need a boost in your sales and revenue?
Learn how we generate qualified IT leads and appointments for you!
Dial 888.810.7464
Grab a copy of our FREE EBOOK, The Ultimate Lead Generation Kit Ebook! Updated with links to the best and latest techniques that will help generate quality sales leads for your business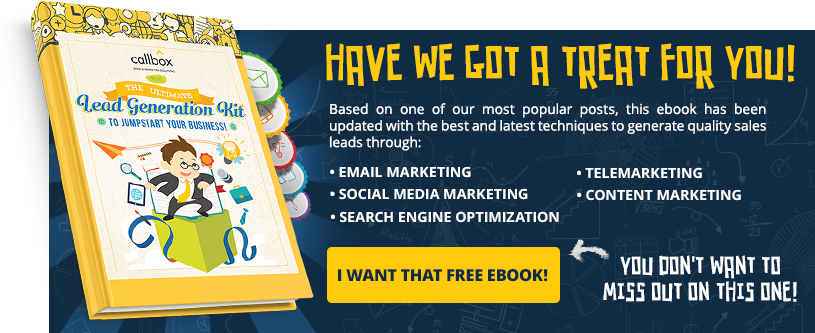 https://www.callboxinc.com/wp-content/uploads/2022/06/Featured-title.webp
450
800
Melody Esteban
https://www.callboxinc.com/wp-content/uploads/2021/07/callbox-logo.svg
Melody Esteban
2022-06-15 06:00:00
2022-06-23 10:36:11
What to Do after Lead Generation: The Ins and Outs of Appointment Setting
https://www.callboxinc.com/wp-content/uploads/2022/06/FEATURED-IMAGE.webp
450
800
Melody Esteban
https://www.callboxinc.com/wp-content/uploads/2021/07/callbox-logo.svg
Melody Esteban
2022-06-08 06:00:00
2022-06-09 08:56:19
Learn the Differences Between Lead Generation and Lead Management
https://www.callboxinc.com/wp-content/uploads/2022/06/Tips-to-Get-the-Attention-of-Tech-Buyers.webp
450
800
Melody Esteban
https://www.callboxinc.com/wp-content/uploads/2021/07/callbox-logo.svg
Melody Esteban
2022-06-01 06:31:46
2022-06-21 13:52:58
How to Set Sales Appointments with CIOs, IT Managers, and Other Tech Buyers