Lead generation for the financial services is basically complex. Since you are mainly dealing with decision-makers who want to generate high quality financial leads, you need to get your money's worth on the most effective tools to secure them.
But before that, you are faced with two problems. The first is choosing which channel to use in order get your services the publicity it deserves, on top of acquiring a steady flow of traffic towards your sites.
If you think that's complicated, it's actually peanuts compared to the second problem: Lead prospecting.
In particular, you need to ask yourself, "How can I come up with effective messaging that addresses the issues outlined by my audience?" In this case, you can strategize on how to craft content that has your clients listening to you on the long run.
While there are many ways that financial services companies can go to increase the influx of leads into the sales pipeline, the issue of which strategy is best suited for them prevails. More importantly, they need to realize the importance of maintaining an effective B2B marketing plan.
To start you off, we present some of the best methods for generating high quality financial leads. Take time to review and apply them in your next marketing campaigns.
#1. Influencer linkages
Influencer marketing is arguably an effective method for getting people to listen to you. Partnering up with industry experts and having them contribute articles to your site will give your brand a needed boost.
Here's one example of our influencer interview where we included eight influencers on our Mother's Day special article. We asked each of them to point out (1) something that their mom has said that turned out to be right and (2) the best piece of motherly advice they've ever received.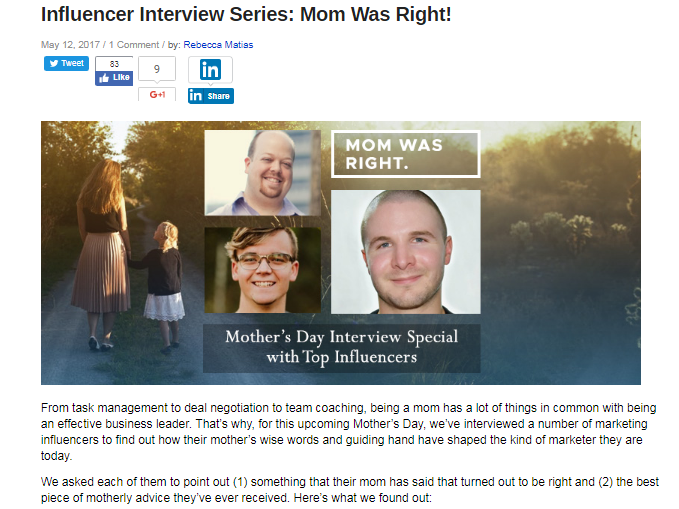 Just by being associated with these experts, you can tell your audience that you mean business and that you have the word "legitimate" written all over you. On that note, link up with the most important names in the financial services industry and widen your network. The more people you hook up with, the better.
Related: How to Reach Influencers and Grow Your Content Audience [VIDEO]
#2. Give industry insights
While you can always partner up with an industry guru, nothing can still beat being your own influencer. Decision-makers are drawn towards companies that know how to strut their stuff. Companies that know the ins and outs of their industries usually get the upper hand in attracting potential customers.
In this case, you should contribute your own voice in discourses concerning your industry. You can start with the production of  content, white papers and initiating and participating in conversations in industry forums.
Related: Old School Lead Generation for Financial Services
#3. Make better content with knowledgeable writers
When it comes to creating content for the financial services sector, you don't simply hire anyone to talk about a product. The logical thing to do is hire an actual expert to produce content that will resonate with your audience. With quality content, you can rest assured that the only people who visit your site are those who are serious about making a purchase.  
Related: The Five Elements of Quality Content (According to an End-user)
#4. Piggyback on industry issues
Newsjacking is a nifty way towards creating highly engaging articles. Enterprises that use newsjacking in their content curation are more likely to generate quality traffic. This is because of the relevancy that newsjacking entails. Still,it functions as a two-edged sword. Marketers should be careful when it comes to picking stories to ride on or risk getting a bad rap for an uncalled for reference.  
Related: Social Media Promotion as an Effective Tool for Financial Services Marketing
Generating leads for financial services isn't that hard after all. Yet, you need to understand how to do it properly to truly capture prospects who will not hesitate to buy a product – that is, if they like what you're talking about.
Get some help in finding new clients for your Financial Services
 Read our latest marketing news or Subscribe to our newsletter!
Dial +1 888.810.7464 / 310.439.5814
Grab a copy of our FREE EBOOK, The Ultimate Lead Generation Kit Ebook! Updated with links to the best and latest techniques that will help generate quality sales leads for your business