For the most part, lead generation is a complicated venture. While we can never doubt how essential it is to prolong a business' life, it entails numerous challenges that must be properly addressed.
No marketing campaign is perfect. While we can always read about the latest marketing trends and dabble in the latest statistics about the most effective marketing channels, nothing can ever prepare us for conflicts that can get in the way when we generate quality leads.
Or is there? We should break through the pessimism somehow and realize that there are numerous ways for marketers to deal with problems in their lead generation that are caused by conflicts. And, yes, conflicts often arise when we least expect. But the only solution for this is for marketers to anticipate them before they even happen or before they turn for the worse.
But how exactly can we anticipate these problems and make sure our lead generation runs as smoothly as it should?
Well, we might want to look at a few pointers first.
Low traffic.
The most critical problem that many marketers face is low traffic. Visitors that only come in trickles does not make for an effective campaign online. So, the best course of action is to create and optimize your landing pages or website . SEO is a part and a big parcel of attracting quality visitors to your site. Aside from directing potential customers towards you, it can also ensure that the sales pipeline is fed all the time.
Related: 15 Brilliant Web Design Hacks That Convert Traffic into Leads
Low quality leads.
Aside from low traffic, low quality leads can also pull your lead generation down. As much as we want to generate a ton of leads, it is still necessary to make sure that such translate to the kind of people that will consider purchasing your product. So, how can we set about this? The rule here is simply to provide quality content. And by that, content that outlines the issues resonating with your target audience. Think about how a fisherman makes a catch. Rather than just throw random content around, try to be specific and use a bait your audience couldn't possibly ignore.
Content marketing pointers:
Your campaigns are too expensive.
And we come to another important conflict that marketers just couldn't shake off. Businesses have different views of marketing budgets. Some will say that the higher the budget the better, and there are also those that think more spending will automatically translate to more revenue. Check out, Defend a Higher Price: 3 Steps.
In any case, marketers will have to face the reality that their budgets are either too tight or too loose to make an impact. To solve this, marketers should consult with sales about their concerns, particularly on lead quality. This interaction can give you a better heads up on how much you can spend in order to maximize your marketing.
Related: The Remedy for Unqualified Leads: Nurture Them Until They're Ready
… Or you might as well have full-service marketing to manage the costs and streamline everything else in your lead generation.
Get some help in finding new clients
Read our latest marketing news or Subscribe to our newsletter!
Dial +1 888.810.7464 / 310.439.5814
Grab a copy of our FREE EBOOK, The Ultimate Lead Generation Kit Ebook! Updated with links to the best and latest techniques that will help generate quality sales leads for your business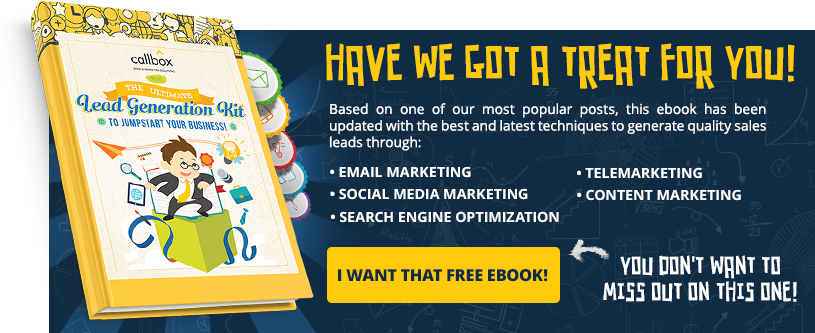 https://www.callboxinc.com/wp-content/uploads/2022/01/Ways-To-Flop-Your-Cybersecurity-Lead-Generation.webp
450
800
Melody Esteban
https://www.callboxinc.com/wp-content/uploads/2021/07/callbox-logo.svg
Melody Esteban
2022-01-17 06:00:00
2022-01-17 02:02:14
5 Ways To Flop Your Cybersecurity Lead Generation
https://www.callboxinc.com/wp-content/uploads/2022/01/The-Definitive-Guide-to-B2B-Lead-Generation-Across-Channels.webp
450
800
Melody Esteban
https://www.callboxinc.com/wp-content/uploads/2021/07/callbox-logo.svg
Melody Esteban
2022-01-10 06:00:00
2022-01-10 20:30:05
The Definitive Guide to B2B Lead Generation Across Channels (Part 1)
https://www.callboxinc.com/wp-content/uploads/2021/12/How-to-Reach-Prospects-When-You-Only-Have-the-Main-Company-Phone-Line.webp
450
800
Rebecca Matias
https://www.callboxinc.com/wp-content/uploads/2021/07/callbox-logo.svg
Rebecca Matias
2021-12-22 06:00:00
2021-12-21 22:17:44
How to Reach Prospects When You Only Have the Main Company Phone Line