Every year, businesses need to come up with new strategies to achieve success. Your marketing plan may have served you well last year, but you need a fresh and updated one to attain your goals this 2017. So your lead generation techniques, for example, must keep up with the new demands and needs of your market today. This will help you create a steady stream of income as well as higher conversion rates that you exactly need.
By planning a new budget that is based on successful channels, your business will prosper in no time. But what are the latest growth hacking lead generation techniques that you can use this year? Let's take a look at the ultimate tips you can use in your marketing plan this 2017:
#1: Learn how other companies beat competition in the market
You know what they say, "If you can't beat them, join them". This is very much applicable in today's global market competition played by huge companies around the world. You can compare your business to others that offer the same products or services. That way, you can learn the best ways on how to attract potential customers and convert them to repeat buyers. Check out paid search, review sites, or product listing pages.
Related: The Hidden Gems of the Web: Where Can You Get a Good B2B Lead List?
#2: Personalize your marketing campaigns
When people feel special when visiting your site, they are more likely to return. Make sure they get what they exactly need and provide them up to date information that excites them. Email marketing is also a great way to achieve customer retention and build new contact lists this 2017. Exert more effort in achieving great customer experience for better lead conversion rates.
Related: What goes into creating a successful Email Marketing Campaign
#3: Practice account-based marketing
This technique is now a trending issue for marketers. ABM campaigns help salespeople in creating a targeted accounts' list that make lead generation easier. For better results, they offer beneficial services to customers such as training, business assessment, and personalized videos to grab their attention.
Related: Why Customer Profiling Could be the Best Investment your Company Makes
#4: Focus on customers as ultimate investment
By improving your customer's journey while they transact with you, it's easier to make them come back. You can practice thoughtful and strategic communications to ensure engagement and healthy interactions. Customers are satisfied when they get assisted all throughout the buying process.
#5: Track channels that give closed deals
Marketers know that zero attribution equals to zero spend. It doesn't matter which industry you are in this 2017. What is really important is how you play your game. Don't forget to track down channels that provide you closed deals every time. This will help you get more volumes of leads while you gauge your marketing success. In addition, it will open more opportunities because you know which channels to target and what factors to benefit from. Here's how to increase new business inquiries this 2017 in 5 easy ways.
#6: Content marketing and blogging
Content is important to business sites more than ever. If you can create infographics, blog posts, videos, and other similar content, your visitors will always be thrilled to get to your site. Fresh content also scores to more effective lead generation strategies this 2017.
Here are some tips from our recent blog posts:
Getting serious with your Digital Marketing? You better get this FREE EBOOK!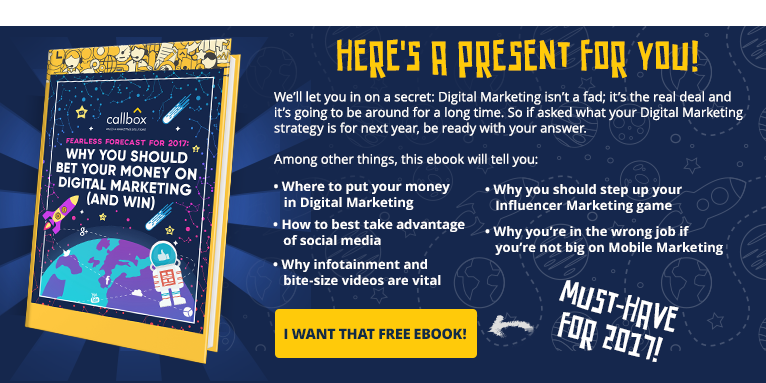 Learn more tips and tricks in creating quality and shareable content!
Read more posts on The Savvy Marketer's Blog
Or learn more about our Lead Generation Services Dial 888.810.7464