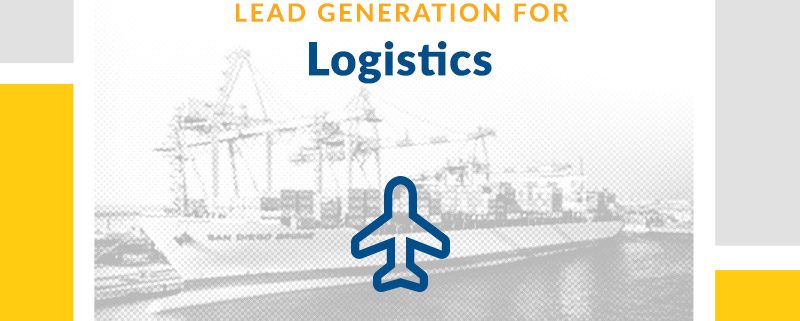 Lead Generation for Logistics
Looking to generate more leads to convert into customers ?
Callbox supports logistics and supply chain solutions providers by developing and implementing strategic b2b lead generation and appointment setting initiatives based on emerging trends, strategies, marketing tools, and industry best practices. We help logistics salespeople maximize their sales time, and focus on selling instead of filling the sales funnel.
We generate logistics sales leads through Multi-Channel Marketing campaign, targeting potential customers which might include:
Logistics managers
Freight forwarders
Customs brokers
Project cargo service providers
We've been helping logistics companies for 14 years including:
Air Cargo & Freight Forwarding
Sea Freight & Cargo Shipping
Logistics & Warehousing
Relocation & Logistics
Moving Companies
Dial 888.810.7464 to speak with a Callbox Marketing Consultant. You can also email us or set a phone appointment  – just fill in the short form below (we promise it's short, 2 minutes, tops) and we'll call you.
What you get when you sign up for our Lead Generation Service:
Account Manager, Dedicated Sales Rep, Email & Social Marketing Specialist, Research & Data Analyst, Quality Analyst
Get the benefits of an All-in-One Marketing Package – Voice, Email, Social Media, Web and Mobile Marketing
Take advantage of access to over 35 million target businesses from the US, UK, Australia, Asia, and more
Managed Marketing Automation
Never again miss an opportunity to sell as we nurture all leads for you until they are ready to engage
Keep your data up-to-date and your marketing campaigns relevant with fresh, phone-verified data
Get ready to close the deals because we're sending warm, qualified leads and appointments your way!
Get More Qualified Leads. Request Pricing.
Busy schedule? Tell us when you're free.
Schedule your consultation times.
You can suggest up to 3:


Availability for Sunday,
| | |
| --- | --- |
| 10:00 AM | 02:00 PM |
| 10:30 AM | 02:30 PM |
| 11:00 AM | 03:00 PM |
| 11:30 AM | 03:30 PM |
| 12:00 PM | 04:00 PM |
| 12:30 PM | 04:30 PM |
| 01:00 PM | |
* We will handle your contact details in line with our Privacy Policy




















Callbox serves cookies to improve and enhance the functionality of our website. By continuing to use this website, you consent to the use of cookies in accordance with our
Cookie Policy