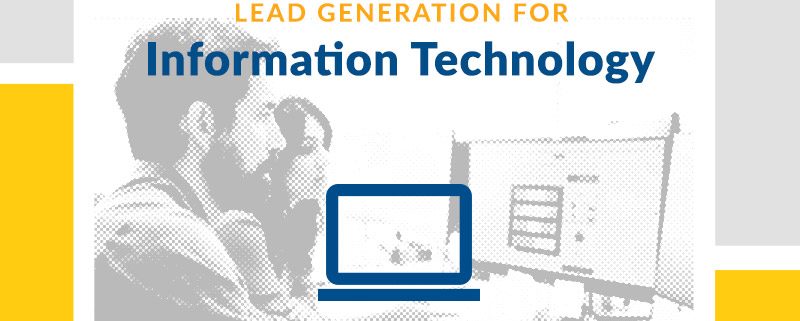 Lead Generation for IT Products and Services
We find IT sales opportunities for you so that your team stays focused on closing deals.
Callbox generates qualified IT sales leads and appointments for tech companies. We create, launch, and manage targeted campaigns that put your IT solutions in front of people that drive IT buying decisions.
With proven marketing experience across a broad range of IT segments, Callbox connects with your target customers through a combination of phone, email, social media, and online channels. We leverage every touch point and reach out to all contacts needed to get your foot in the door of a potential customer.
Through lead generation and appointment setting solutions, we help you reach the right IT decision-makers including:
IT Managers
Chief Information Officers (CIOs)
IT Directors
Chief Technology Officers (CTOs)
Senior VPs for Information Systems
Other top IT executives
With 14 years of experience in the IT industry, we ensure that campaigns are tailored to the unique needs and characteristics of different IT segments, including:
Managed IT Services
IT Security Solutions
Cybersecurity
Telecommunications
IT Consulting Services
Healthcare IT
Back-up and Disaster Recovery Solutions
VOIP/IP Telephony
Web Hosting, Design, and Development
System Integration
Data Warehousing
Network Management
Ready to get started?
Let's talk about how we can work together to generate more opportunities and revenue growth for your business.
Tech Insights
Analyze successful IT marketing campaigns and apply the relevant information into your own marketing approach
What you get when you sign up for our Lead Generation Service:
Account Manager, Dedicated Sales Rep, Email & Social Marketing Specialist, Research & Data Analyst, Quality Analyst
Get the benefits of an All-in-One Marketing Package – Voice, Email, Social Media, Web and Mobile Marketing
Take advantage of access to over 35 million target businesses from the US, UK, Australia, Asia, and more
Managed Marketing Automation
Never again miss an opportunity to sell as we nurture all leads for you until they are ready to engage
Up-to-date Target Contacts
Keep your data up-to-date and your marketing campaigns relevant with fresh, phone-verified data
Opportunities and Warm Leads
Get ready to close the deals because we're sending warm, qualified leads and appointments your way!
Get More Qualified Leads. Request Pricing.
Busy schedule? Tell us when you're free.
Schedule your consultation times.
You can suggest up to 3:


Availability for Wednesday,
| | |
| --- | --- |
| 10:00 AM | 02:00 PM |
| 10:30 AM | 02:30 PM |
| 11:00 AM | 03:00 PM |
| 11:30 AM | 03:30 PM |
| 12:00 PM | 04:00 PM |
| 12:30 PM | 04:30 PM |
| 01:00 PM | |
* We will handle your contact details in line with our Privacy Policy




















Callbox serves cookies to improve and enhance the functionality of our website. By continuing to use this website, you consent to the use of cookies in accordance with our
Cookie Policy
X