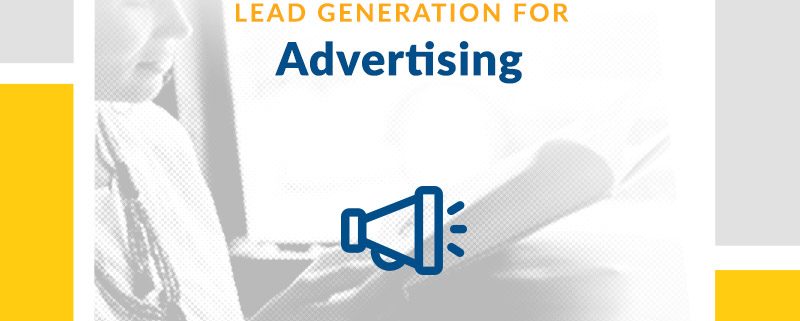 Lead Generation for Advertising Agency
Finding lead generation solutions for both direct response and brand marketing services has never been easier.
While parameters for qualified advertising sales leads are not always the same with every advertising company, we are always able to find a fitting solution for each of our clients.
We promote your advertising services to high profile decision makers such as Sales Managers, Chief Marketing Officers, Sales and Marketing Directors and VPs, CEOs, and Presidents of various corporations, non-profit organizations, and government agencies.
Our solutions are designed to reach the following target clients:
Fortune 100, 500 and 1000 companies
Retail businesses with multiple locations
Service businesses
Automotive businesses
Advertising agencies
Sign makers
Healthcare companies
Companies that frequently advertise in catalogs or magazines
Our lead generation services provide leverage to online/offline advertising campaigns including:
Display Advertising
Direct Mail Advertising
Print Advertising
Sales Promotion
Media Planning and Buying
Interactive Advertising
Event Creation / Event Marketing
We'd love to hear from you
Find out how our tailored agency marketing solutions can improve your sales pipeline.
Advertising Insights
Gauge and explore the targeted marketing potential for your Digital and Advertising business
What you get when you sign up for our Lead Generation Service:
Account Manager, Dedicated Sales Rep, Email & Social Marketing Specialist, Research & Data Analyst, Quality Analyst
Get the benefits of an All-in-One Marketing Package – Voice, Email, Social Media, Web and Mobile Marketing
Take advantage of access to over 35 million target businesses from the US, UK, Australia, Asia, and more
Managed Marketing Automation
Never again miss an opportunity to sell as we nurture all leads for you until they are ready to engage
Keep your data up-to-date and your marketing campaigns relevant with fresh, phone-verified data
Get ready to close the deals because we're sending warm, qualified leads and appointments your way!