Any marketing agency right now is busy developing nifty tools in order to enhance their capabilities, maintain clients, and win over new ones.
Apparently, it's not that as easy a feat since a marketing company has to deal with a lot of competition. Success can only be experienced by enterprises that have what it takes to make an impact – and for a very long time at that!
Hardly do companies get a massive appeal. And luck certainly doesn't have anything to do with success. If anything, success is mostly a result of innovation and a desire to listen to what people want. Lead generation brands all have the same taglines to offer to eager prospects, but to truly make your mark in this field takes more than these.
Sure there are ups and downs in the field of B2B marketing, but 2017 seems to be a good year for Callbox.
After being as one of the top five lead generation agencies by TechnologyAdvice, this pioneer in the field of marketing technology has culled yet another merit to its name.
BusinessPhrases.net, a site devoted to the business development and knowledge sharing has also made Callbox a top pick among other B2B marketing services.
In fact, it has put Callbox at the top of its
: the Best list containing the most popular as well as best performing lead generation services that cater to various industries in the B2B market. The list includes companies that "provide you with the right lead generation techniques, solutions, and strategies you need to develop your sales pipeline."
And apparently, Callbox doesn't fail to impress with its effective use of inbound and outbound marketing campaigns that are guaranteed to satiate the sales pipeline with high-quality sales leads.
To quote from BusinessPhrases.net:
"Backed by smart marketing technology and proven prospecting processes, (Callbox gives) you the power to scale your sales team and effectively boost your sales numbers through their lead generation services." 
And it doesn't stop there. The site also gave chops for Callbox's ability to juggle multiple channels through its home-grown marketing platform Pipeline. Intricate lead generation activities such as lead management and lead nurturing are effectively handled using a balance of automated marketing processes as well as good old-fashioned cold calling.
Through this tandem, Callbox is able to generate quality leads and set appointments that are sure to end in a close. With such a marketing automation tool at its disposal, Callbox can guarantee a streamlined marketing process that can benefit any enterprise from any given industry.
But we won't stop working right there. It seems like the only way to go now is forward, and Callbox will continue innovating while maintaining its core principle of helping enterprises navigate their way through the intricacies of B2B marketing.
 Get to know Callbox even better. Watch our video
Get qualified and industry targeted leads today! Dial +1 888.810.7464
Grab a copy of our FREE EBOOK, The Ultimate Lead Generation Kit! Updated with links to the best and latest techniques that will help generate quality sales leads for your business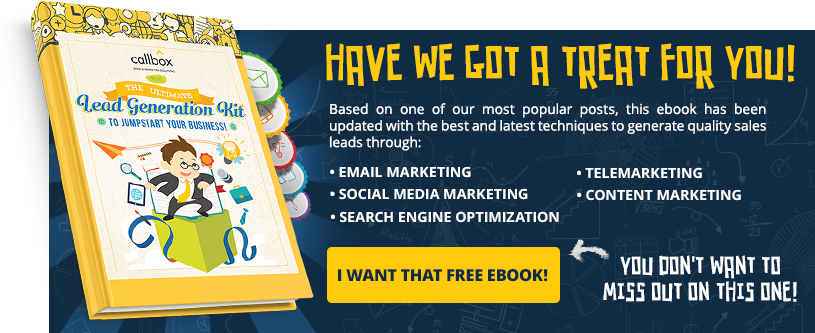 https://www.callboxinc.com/wp-content/uploads/2023/09/Healthcare-Lead-Generation-How-to-Capture-Medical-Leads.webp
450
800
Rebecca Matias
https://www.callboxinc.com/wp-content/themes/enfold-child/assets/images/callbox-logo.svg
Rebecca Matias
2023-09-14 09:15:59
2023-09-14 10:05:39
Healthcare Lead Generation: How to Capture Medical Leads
https://www.callboxinc.com/wp-content/uploads/2023/08/The-Power-Couple-SDR-Outsourcing-and-Next-level-Outbound-Lead-Generation.webp
450
800
Rebecca Matias
https://www.callboxinc.com/wp-content/themes/enfold-child/assets/images/callbox-logo.svg
Rebecca Matias
2023-08-25 14:46:41
2023-08-25 14:46:44
The Power Couple: SDR Outsourcing and Next-level Outbound Lead Generation
https://www.callboxinc.com/wp-content/uploads/2023/08/Europe-Lead-Generation-Finding-and-Qualifying-High-Value-B2B-Leads.webp
450
800
Rebecca Matias
https://www.callboxinc.com/wp-content/themes/enfold-child/assets/images/callbox-logo.svg
Rebecca Matias
2023-08-15 09:04:25
2023-08-16 08:51:40
Europe Lead Generation: Finding and Qualifying High-Value B2B Leads