Joining events is one of the most effective ways to market your product, service, or brand because you can leverage the awareness and the hype of the event to showcase the value and benefits of your product or service. Of course, the main goal is to earn from, but the modest objective is to drive brand awareness and traffic among a specific audience. Here's a tip, though. Pick only the events that allow you to emphasize the value of your product or service.
At Callbox, we make it a point to never miss big events because we see it as a vehicle for product marketing. Take the case of the events we attended this year – Dreamforce by Salesforce and DMA's &Then, two of the biggest annual marketing events. If you are in marketing, you want to be at Dreamforce and &then because they're like the comic-con of marketing people – you don't only want to see and be seen, but learn and take home useful ideas and information you can surely use in the future. More importantly, being there gives you a lot of marketing media mileage, and in turn puts you in a better position to get maximum ROI in terms of contracts and future partnerships. The point is, you have to identify your target events, and once you have them, follow these steps in order to get tangible ROI.
One: Conduct Keyword Research
The good thing about Dreamforce is that, because it's become an identifiable name (at least among marketers), we didn't have to find the perfect keywords that would attract awareness, hype, and traffic around the event. We only had to use the name of the event itself, and voila, we were as good as launched in social media.
But if it's something else that's not as popular or something that you organically created, you really need to conduct keyword research to determine what related terms your audience is searching for around the event. The more relevant keywords you use in your campaign, the more people you'll reach and the more traffic you'll drive.
Two: Build an Optimized Landing Page (or at least a – what do you call that thing we did with DF16?)
There are three reasons I change my cover photo or profile picture: 1) When there's a celebration, 2) a memorable experience, or 3) a milestone. But the bottom line is, I really want people to notice it, to attract attention. Hey, I'm human.
Your cover photo or profile picture is like your website's landing page. If you're attending an event, you need a landing page specific to that event. Your campaign should be relevant to the event you're targeting and add value for people interested in it.
Your campaign and landing page should also be branded so as people use your product, they learn about your brand as a solution to a pain point. Use hashtags or keywords. Make sure to have a clear call to action to try your product on your landing page. Here's an example of the one we built for our Dreamforce 2016 and &then campaigns: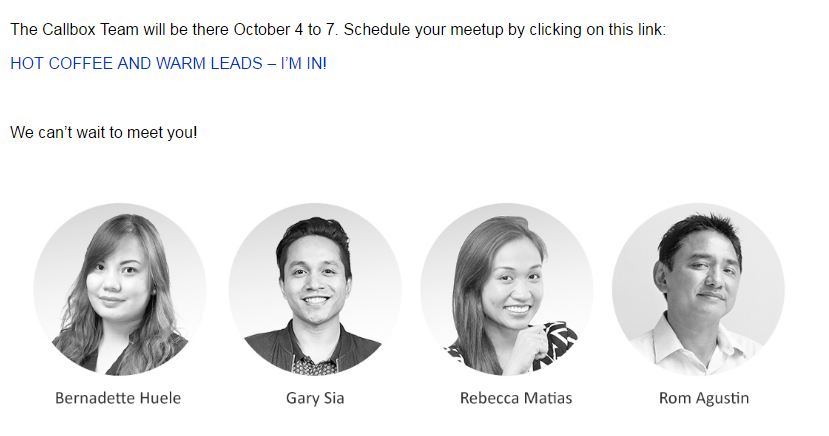 The look and feel of your page matters too. Use only attractive colors, high-resolution graphics or images, proper spacing and generally good aesthetics to keep your visitors. These characteristics will increase the likelihood of your target market staying on, sharing, and event signing up for your campaign.
Three: Promote Your Campaign
Creating an optimized landing page is, in essence, promoting your campaign, but it's like saying you love your wife because you married her. It's not enough. You really have to show it. Every single day. By promoting your campaign, I mean taking to social media, creating a series of blog posts, and press releases. It's a combination of these that would stir the curiosity of your audience and perhaps, even earn an appointment.
When promoting an event you're going to, just remember to reach out to relevant media sites.
In social media, identify catchy hash tags and those the people are using to talk about the event in advance. Tweet them regularly, using witty, shocking, or emotional language to pique interest and intrigue.
In terms of content, write articles or produce videos related to the event. This gives you something to promote other than just your landing page. By linking to your landing page, you'll also help improve your landing page's search ranking (as long as the content is high-quality, of course).
In our case, we took to Twitter, Facebook, and Google+ using our hashtag #CallboxatDreamforce and #Dreamforce16 to create more hype about the event. We published a series of blogs about the event, the reason we're attending, the key people in the organization that will be there, and why our audience should be there, too.
We have published two blog posts for Dreamforce and published it 2 weeks before to gain traction and be able to set more appointments before the event and the face to face meetings.
We even used throwback pictures, you know, for good measure.
Four: Analyze the Results
No campaign is complete without measuring its success (or lack of it). Once the event is over, you should get and take a long hard look at all the numbers including traffic, conversions, engagement, and so on. To put things in perspective, compare your current results with that of the past and determine why one was more effective than the other.
For the Dreamforce campaign, we were elated to have had 12 sign-ups among the 55 inquiries. Three of those who signed up scheduled an appointment, and two signed contracts. It was a huge improvement compared with last year's numbers – 32 inquiries, 6 sign ups, 1 appointment, zero contract signed.
We didn't stick to one marketing channel instead we utilized whatever is useful to our campaign. They say it takes two to tango so we used inbound and outbound marketing strategy to garner the leads we need. All of these results will help you determine what works and what doesn't. To have positive ROI, of course, you have to throw out what doesn't work and focus on those that do.