Companies in the Software industry often struggle with marketing their products and services. Much of this struggle involves applying the appropriate strategies to attract more clients and win more sales. Easier said than done, but it largely entails implementing the right process of converting site visitors into leads.
Over the years, the problem tarried as increased competition has encouraged players to increase marketing budgets and pursue more aggressive campaigns. This situation has, in fact, become a caveat for newcomers in the software industry. We all know that good ideas are just not enough to entice software buyers and secure a competitive edge, and that the real score is about using the best techniques to promote and sell a product or solution.
Related: Examples of Exceptional SaaS Marketing from 3 Notable SaaS Brands
Fortunately, there are tons of methods for software companies, big and small, to secure higher quantities of leads and better revenue numbers. We've listed down some below:
Offer Promotional Discounts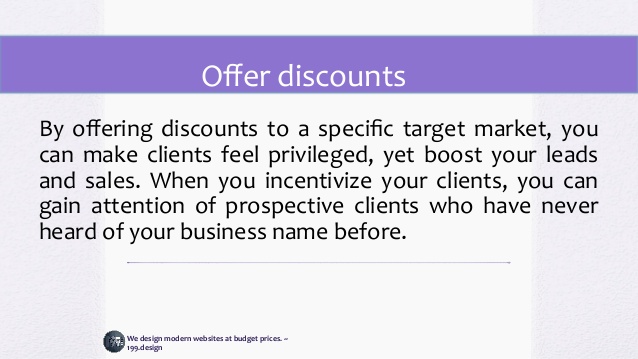 Who doesn't like discounts, anyway? The word gives off a good ring to the ears of buyers and sellers alike. While it kicks off some excitement for buyers, it opens opportunities for higher sales appointments for sellers on the other hand.
A word of caution though: Not all promotional campaigns and seasonal sales will result in higher profits. Customers tend to make purchases only when you offer discounts.
Another thing to keep in mind is how much can you slash from your current pricing. You can't just give a thousand-dollar software away. So, offer promotional discounts that would attract buyers, but at the same time, come up with sales strategies on other products that will drive to get even or regain the profit from promotions.
Related: 10 Affordable Marketing Ideas for Software Startups
Make your Website Visitor Friendly
Your website should always work towards increasing traffic and not turn away potential buyers. Most initial engagements happen when a prospect visits your website and scans through its contents, the same way a tourist hunts for bargain souvenirs in a foreign place. Being the owner, always think of what your visitors would be interested in.
Make your content accessible and easy for your prospects to navigate on your website. Start with responsive design elements from the placement of CTAs to the way you build your fill forms. These are essential elements to help your customers decide faster.
Do Retargeting (or Remarketing)
One thing's for sure, not all website visitors will end up as buyers of your software product. Some may make several queries before they take the next step forward, some will keep you in view for a while and others may be just filling out a shortlist of possible vendors to compare rates.
Knowing for a fact that bouncing visitors do not amount to rejections, so you need to push ads that will continually remind them to come back as potential customers and eventually become buyers.
This is where retargeting comes in. Rather than letting them go, recapture your potential customers' interest by closely tracking them through content they interact with and eventually convert them into leads.
Retargeting will enable you to craft better messages that resonate well with your target audience. However, you should always be mindful of the most effective timeframes for publishing your ads. By doing so, your software products will be able to win more buyers and lead to a huge spike in your revenue.
Related: Selling Tips to Make Prospects Buy your Software
Emphasize Value Proposition
It may seem cliché to some, but in terms of generating plenty of software leads, you will have to demonstrate how valuable your product is to your prospects – even before they make inquiries.
In this vein, you need to make use of content such as blogs, case studies, reviews, testimonials, videos, infographics, etc., to add to your brand's authority and power to reel in new customers, thereby giving prospects a very good reason to make a purchase.