For the longest time, the hospitality industry has been this stable, undisturbed market where progress is steady and revenue is pouring in consistently, year in and year out. Big names keep on getting bigger, widening their breadth, tightening their hold on the market.
And then Airbnb happened. Airbnb is a peer-to-peer accommodation marketplace connecting hosts — vendors of rooms or accommodations — and travelers via its website. It doesn't own any real property but earns through processing fees. The simple business model made common people rent out their properties that would otherwise go unused. A couple of years after its inception, it more than doubled its clients and increased its market capital several folds. No hotel chain can claim the same level of progress when it was starting up.
Needless to say, it caused a stir within the hospitality industry.It might even have shaken up a few organizations which were more passive than proactive in their business approach.
But this was more than five years ago. Now, the "traditional organizations" in hospitality industry are fully aware of the threats of modernization and technology and the demands of the modern client. But the general attitude towards this shouldn't stop with being just aware. What they need to do is identify the trends moving forward and make sure all the boxes listed below are checked.
Priority on Millennials
Millennial. It's a word that is being thrown around very often these days. Apparently, this demographic has a ton of influence on a lot of things, and that includes the travel and hospitality industries. According to study by the Cornell Center for Hospitality Research, millennials are expected to represent 50% of all travelers to the USA by the year 2025. And the challenge? Millennial travelers don't want the traditional travel experience. There's actually more to those backpacking, camera-toting, social-media savvy kids you sat beside with on your flight from Singapore to California. Just when you thought they just travel for the Instagram-worthy photos, you realize that they actually want to learn something more profound and meaningful from their travels.
According to www.ehotelier.com, the Millennial traveller, already makes up over one third of the world's hotel guests, with predictions that they will reach over 50 per cent by 2020. tweet this!
Companies need to be aware of this trend and craft a strategy based on these demographic's habits and traits — they're young and enthusiastic and spontaneous and most that have substantial savings take advantage of the cheaper travel and accommodation rates. That's why it's not unusual for even high-end hotels to incorporate excursions that give guests insight about the locale's culture and traditions, cuisine, and even arts and crafts. Hotels impress them hassle-free transactions and ultramodern amenities, all at reasonable prices. In return, expect satisfied customers to rave about it on their seven social media accounts.
Some statistics about millennials and travel to take note of:
Reference: www2.sabrehospitality.com
---
Download a copy of digital marketing statistics 2017!
---
Capitalize on Tech
Ok, being tech-savvy is no longer a monopoly of the millennials. This day and age when even your granny plays mahjong on her iPad, expect the majority of guests to be self-sufficient, tech-savvy travelers who'd rather use their mobile phones to transact business with a hotel or rate it via an app.
One word: user-friendly.
Because more people use their smartphones than their desktops these days, hotels need to guarantee that their website is user-friendly, up-to-date, and whatever they're offering online is what it is in reality.
Mobile devices are transforming the hotel check-in process. While the majority still use keycards, there are some hotel chains that use smartphones to unlock a hotel room door. Even some staff are equipped with iPads to facilitate transactions with guests. If it makes you wonder whether front desk staff are still needed in the near future, you're not alone. The hotel industry should embrace mobile technologies and innovative, streamlined check-in procedures in the near future.
In this mega-trends special report, Hospitality Technology pulls together data from its 2016 Lodging Technology Study, combined with insight from industry thought leaders and hoteliers, to find more about out what's shaping technology spending today. Reference here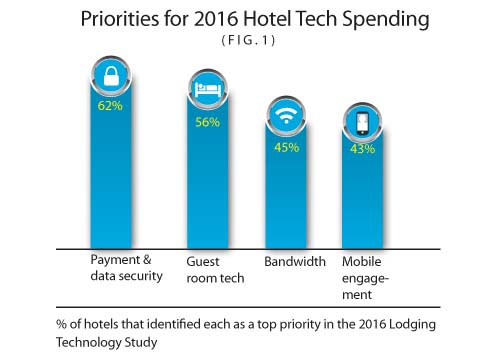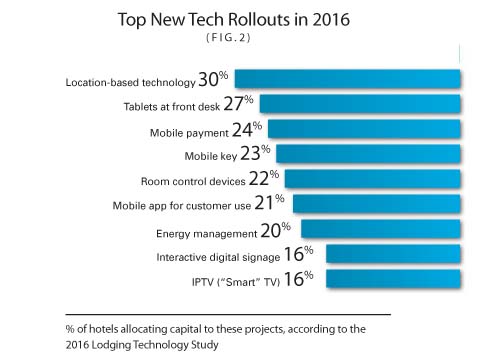 ---
Attract potential customers and generate more hotel leads by using the best marketing channels.
---
More Emphasis on Health and Well-being
It's nice to know that the technology which allows us to make simple things become even more simple (read: makes us lazy and fat and sick) is also the technology that tell us how many kilo-calories we should burn to offset that double cheeseburger and 24-ounce soda you just downed a while ago. Case in point: instead of bending over to pick up the remote control, we can use our phones. The same phone tells us a myriad of other things about our health and fitness and general well-being. Indeed, just as the food we eat are getting more and more unhealthy, the human race is actually getting more and more health conscious.
Hotels should capitalize on this trend. Guests today are so health-conscious they sometimes choose hotels based on their health and fitness amenities, pools and spas.
Maintaining an active lifestyle while traveling has become more of a requisite than an alternative. Innovative wellness options are expected, in addition to healthier food choices. Shower water with vitamins was unheard of a few years back but may become mainstream soon.
Green Living
There is a correlation between living a healthy lifestyle and green living. One study found out that a person who is health-conscious is 87% more likely to be eco-friendly as well. This is good news to the earth. Yes, there's a growing concern for the environment, health, and wellness among consumers. And because guests prefer eco-friendly spaces, environment-friendly practices are becoming more a norm than an outlier, as properties try to shift on renewable energy resources.
Many hotels are installing solar panels. Apart from inverters, some hotels are updating systems that make air conditioners and lights automatically switch off when guests leave their rooms. You know hotels are taking both sustainability and wellness seriously when their twitter feeds announce not just their state-of-the-art wellness gym, but even their recycling programs and use of non-toxic cleaning supplies.
Word of "mouth" Promotion
Social media is so powerful it can it can bring down governments and political careers it's silly to think it can't topple a hotel chain. If a hotel guest is dissatisfied, he or she can easily complain on Facebook, Twitter, Yelp or TripAdvisior. One bad tweet and you can say good bye to millions of dollars in profit, if not the entire brand.
On the other hand, social media done right and well can turn your brand into a more profitable one. Many hotels are capitalizing on popular guests' (not necessarily showbiz personalities, but those with a substantial number of followers) reviews and tweets on their websites and Instagram photos and Snaps.
A study said that in 2014, 70% of users who travelled were influenced to a degree by travel content on Twitter. Furthermore, an astounding 60 million tweets are said to have mentioned hotels. In perspective, only 21 million tweets mentioned holidays.
Social media is also a good avenue to reach out to customers and earn their loyalty and trust. Engaging with customers and responding to their needs through these public forums help maintain positive guest relations and drive future bookings.
Today, there are maybe six or seven really good social media channels for self-promotion. Soon, there'll be more, and you have to take advantage of every single one. Once word gets out that your hotel's social media account is helpful and prompt, you're as good as fully-booked.
Conclusion
These are just trends. They may just be developing and becoming more common or they may completely cease to exist altogether. The final results may vary depending on a lot of significant factors, but barring a major, history-altering event, organizations that employ a proactive approach relative to these trends are in a better position to become more competitive in the hospitality industry.