B2B companies agree on two facts: that content is king and that corporate events are what propels business growth. The latter deserves a lot more attention, though, considering just how popular events such as product unveilings and seminars have become.
In fact, Bizzabo points out that at least 80 percent of marketers believe that live events are essential to growth. Added to this is the idea that events can help businesses with branding and to better seek opportunities for enriching outreach to clients.
One of the best ways to make this happen is to organize trade shows where marketers can promote their products and services where their target audience can see them. What's more, trade shows make it easier for these marketers to reach out to their client base and get a better feel of their needs.
With that said, marketers should always make a great deal out of inviting the right people to such events. This is possible through the usual methods used in generating B2B leads. But aside from social media content and landing pages, businesses should also consider campaigns that promise a lot more in terms of quality.
Related: Event Marketing: Four Important Tips to Push Attendances
Events telemarketing is a notable example, and mainly for good enough reasons. For a lot of marketers, the ancient yet still effective method of cold-calling enjoys massive appeal, especially among companies that aim to build better bridges. But aside from growing sales, telemarketing can also help rake in participants to a trade show.
One thing's for sure, telemarketing allows you to create messages that will eventually push your contacts into signing up for your trade show. But it's not that simple, actually. Let's start with messaging. Companies need to create effective proposition. That's a no-brainer. But let's consider a scenario in which a prospect accepts an invitation, but would later on decline for some reason. How would you address this?
Related: Feeling deserted? Here's How To Reduce No-Shows In Your B2B Appointments
Obviously, you can only rely on effective telemarketers to reel your prospects back in. Before the big trade show arrives, these professionals will constantly keep in touch with your prospects, reminding them of the event. By doing so, prospects can always consider sending a representative over if scheduling conflicts arise.
What's more, telemarketers can also give you an added boost in lead generation. Marketing your event also counts as marketing your brand, and telemarketers basically double as effective communicators of your products and services.
Of course, to be able to make sure your trade show gets the attendees it deserves, you should always opt for a B2B lead generation company that knows just how to make prospects give that resounding yes.
Related: Fortune Cookies to Guide You Shopping The Best B2B Lead Generation Program
You don't have to look far though since you can always find a good team of experienced telemarketers just about anywhere. But first, let's start talking about how to plan your event from the get-go.
Learn more about our effective event marketing process
Talk with our Marketing Consultant,
Fill up this short form or Dial 888.810.7464
Grab a copy of our FREE EBOOK, The Ultimate Lead Generation Kit Ebook! Updated with links to the best and latest techniques that will help generate quality sales leads for your business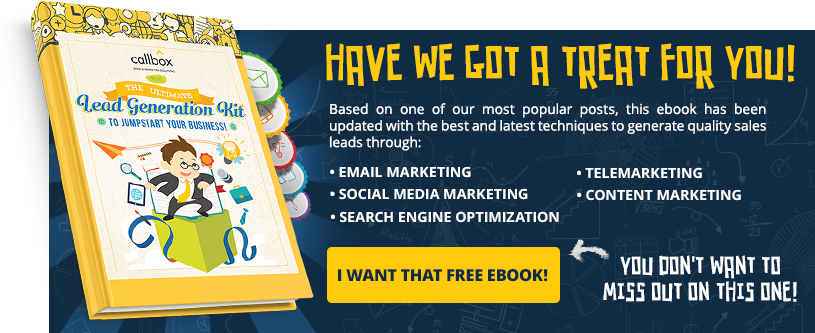 https://www.callboxinc.com/wp-content/uploads/2022/03/New-B2B-Telemarketing-Techniques-That-You-Can-Start-Using-Now.webp
450
800
Melody Esteban
https://www.callboxinc.com/wp-content/uploads/2021/07/callbox-logo.svg
Melody Esteban
2022-03-23 06:00:00
2022-03-28 02:59:33
New B2B Telemarketing Techniques That You Can Start Using Now
https://www.callboxinc.com/wp-content/uploads/2021/09/5-Powerful-Telemarketing-Spiels-To-Overcome-Any-Situation.webp
450
800
Rebecca Matias
https://www.callboxinc.com/wp-content/uploads/2021/07/callbox-logo.svg
Rebecca Matias
2021-09-27 06:00:00
2021-09-27 03:27:45
5 Powerful Telemarketing Spiels To Overcome Any Situation
https://www.callboxinc.com/wp-content/uploads/2021/08/Watch-On-Demand-5-Times-Telemarketing-Can-Get-Your-More-Leads-and-Sales.webp
450
800
Melody Esteban
https://www.callboxinc.com/wp-content/uploads/2021/07/callbox-logo.svg
Melody Esteban
2021-08-19 18:33:33
2021-09-24 03:57:16
Watch On-Demand: 5 Times Telemarketing Can Get Your More Leads and Sales