Email marketing has to be one of the best lead generation strategies out there. Because, for one, it is reliable. CampaignMonitor has noted that "Email is 40 times more effective at acquiring new customers than Facebook or Twitter." (Combining email with other channels maximizes its turnout as well)
---
Marketing Sherpa on the other hand has found out that 72% of people prefer engaging promotional content via email.
---
We can actually make a compilation the size of a phone book for all the praise email marketing has been getting through the years. Still, there is a need for businesses (especially those in the B2B industry) to apply the right methods in managing and implementing an email campaign.
Now, we can ramble on about writing effective copy, offering something new each day, and featuring content with a seasonal vibe (think cliche Christmas cards).
But, as marketers, we should always look at our campaigns through different perspectives. Instead of focusing solely on content, let us look at how we send our emails.
It is very likely that your campaign follows a schedule for sending emails. And it is very likely you follow the same old rule: "Tuesdays to Thursdays. 8 AM to 11 PM."
There are reasons why marketers follow this. One of them is that decision-makers are at their most active during these days and these timeslots. Besides, it doesn't make any sense to send during the weekends. As if some blog would tell us otherwise.
---
"…Even though the weekend was not the most popular time to send emails, those who opened were much more likely to engage with it and click through or purchase." – VerticalResponse.com
---
Hold on one second. You're telling me that it actually works to send emails on Saturdays and Sundays? Sundays?!
Well, there has been numerous studies pointing out the benefits of weekend email campaigns. And while it may look like an outrageous idea, marketers who do implement this kind of approach have noted tremendous increases in conversions.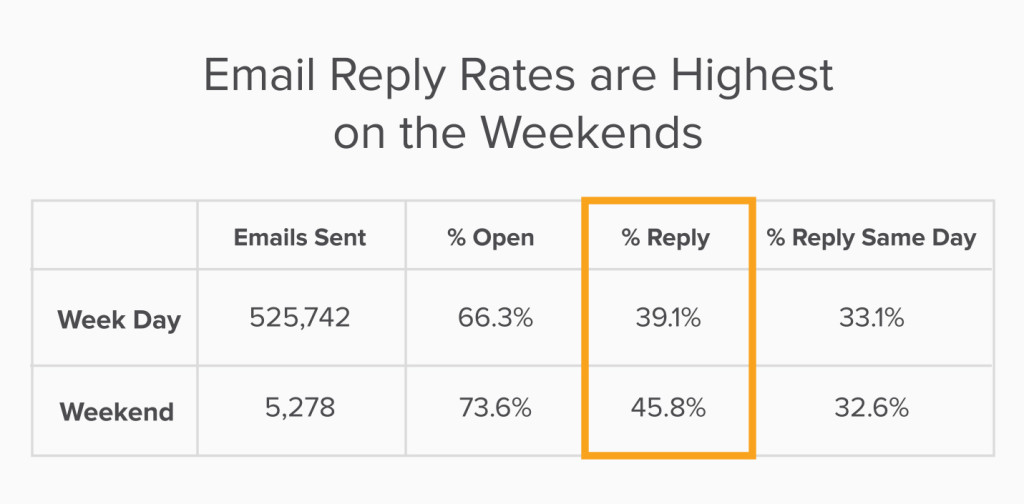 According to Yesware's analysis of over 500,000 sales emails, email open and reply rates are higher on the weekends.
It may have something to do with the fact that managers and decision-makers are more relaxed during the weekends. The stressful conditions provided by regular workdays impel them to ignore promotional material and focus on the tasks they set out to do during these days. The weekend gives them respite from all this hassle and eventually, make them more responsive.
Related: 5 Actionable Email Marketing Templates you can Use to Follow Up [GUEST POST]
In fact, managers are more likely to read through their mail since they have a lot of free time in their hands, especially on Sundays. This would explain why conversion rates are so high on these days.
However, just like any other marketing theory, you will need to test the waters first before deciding on taking your email campaign out on a weekend. Experimentation and A/B testing are crucial. And if it does work, then consider taking the road less traveled.