The British sketch comedy program Monty Python continues to be a good source for slapstick material. One compelling sketch from the show involves a restaurant that sells anything as long as it has spam. The comedy here is funny due to the constant repetition of the word "spam."
But unlike in the show, constant spamming is an annoying problem in the B2B marketing world. It is never a laughing matter. In fact, many companies have suffered heavily because they follow such a practice. Often, these B2B companies were in the first place sincere in setting up their email marketing campaigns. They might as well wonder how they got it all wrong.
The truth is that they went wrong with email composition. Email marketers who know better will see a laughable error in fastening emails with the wrong impressions.
Mailing services have become too stringent. And it is imperative for marketers to adapt to the changes taking place in the world of targeted email marketing.
To increase conversion rates, it is imperative to avoid giving your mails a coat worthy for the spam folder. These tips by MailChimp will sure help:
Save your subject lines
Marketers make mistakes in many ways. Perhaps, the most infamous of these is abusing the subject line. The first thing that targets notice in your mails is the title. This demands a need to make the title as interesting as possible. Still, many marketers motivated by audience responses take it to the extreme. Words are rendered in uppercase letters. Unnecessary symbols are inserted. Keywords like "Best Offer" or "Discount" or "Once in a Lifetime" are encouraged. Yes, they assert a point. But in reality they help tag your mails as spam. A remedy comes in the form of simple yet compelling subject lines.
Code carefully
Many copies intended for email marketing are automatically junked because they weren't coded in the appropriate way. Filters have the ability to determine if a message is spam. An HTML email is one thing that fits the profile, especially when it originates from a Word file.
Avoid simultaneous forwarding
Sending the same message to multiple recipients within a target company is another dire practice. Instead of this, consider sending emails to qualified individuals. Better yet, send your messages by batches.
B2B marketers are scared of the spam folder. They should be if they want their companies to remain credible. Consequently, following the basic principles of email marketing is effective in improving sales performance.
Bonus tip from Salesforce – Build an excellent email list from scratch
Appropriately composing your email list is vital to keeping your messages from being labeled spam. But this is something almost all businesses in the B2B and even B2C communities struggle.
Luckily, this infographic by Salesforce offers clear insights into how marketers can create accurate and relevant email lists.
Via Salesforce
Do you have your own way of keeping your precious emails from the spam folder? Share it in the comment section below.
Read the latest updates on The Savvy Marketer's Blog
Get a targeted list or Learn more about Callbox Multi-Channel Marketing Strategy
Contact us or Dial 888.810.7464
Grab a FREE copy of 40 B2B Sales Email Templates for Every Situation! These 40 examples have all been hand-picked from a variety of sources that tested these templates in terms of opens, click-throughs, and replies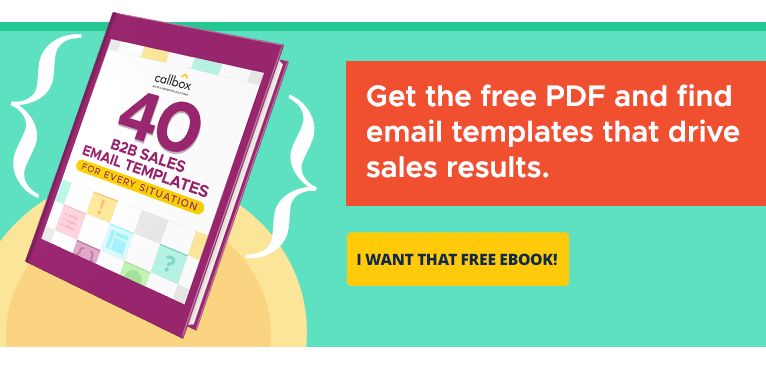 https://www.callboxinc.com/wp-content/uploads/2022/01/What-goes-into-creating-a-successful-Email-Marketing-Campaign.webp
450
800
Melody Esteban
https://www.callboxinc.com/wp-content/uploads/2021/07/callbox-logo.svg
Melody Esteban
2022-01-03 06:00:00
2022-06-27 09:22:42
What goes into creating a successful Email Marketing Campaign
https://www.callboxinc.com/wp-content/uploads/2021/11/Email-marketing-What-does-2022-hold.webp
450
800
Guest Author
https://www.callboxinc.com/wp-content/uploads/2021/07/callbox-logo.svg
Guest Author
2021-11-17 20:57:00
2022-04-08 03:56:02
Email marketing: What does 2022 hold?