It is not that surprising that B2B companies consider email to be an essential lead generation tool. According to Campaign Monitor, "email is 40 times more effective at acquiring new customers than Facebook or Twitter."
Apart from that, email provides these companies with conversion rates of up to 66%, which is higher than that of any marketing channel.
These numbers do not lie. We can point out several campaigns that had seen significant successes in terms of the number of qualified leads generated. But, in order to reach these numbers, the companies that handled these campaigns know better than to give out half-baked goods.
When it comes to email marketing, content really does matter especially in generating leads. And in order to increase engagements as well as revenue, you will need to craft emails that are worthy of a prospect's attention. It's one thing to write messages, but it's an entirely different thing to create messages that will have people to engage you in the long term.
Here are several ways you can do to write an effective email copy.
---
1.) Keep it active.
---
Source: runeatrepeat.com

Above is a screenshot of the subject line of the Marketo's Ebook. With this creative subject line, only the naive wouldn't try clicking. Anyone who has had a crash course on good writing knows that the active voice is a key ingredient in cooking up the urgency. It's straightforward and people basically won't have a hard time trying to figure what you're trying to say. So, instead of saying, "Your IT issues are caused by A," write "A Causes your IT Issues. Here's How to Get Rid of It."
---
2.) Short and simple.
---
Sometimes, we cannot prevent our inner avant-garde literati from taking control of the writing process. Sure, long sentences and the use of complex vocabulary are the hallmarks of literary genius. But, let's face it, these have no place in the world of B2B where people expect you not to waste their time trying to decode your emails. When considering a newsletter campaign, chop your writing into bite-sized chunks. You wouldn't want your audience to choke on a hifalutin sausage now, would 'ya?
---
3.) Use the second person.
---
Marketing is all about outreach as much as it is an avenue where you can flex your muscles and feel good about yourself. In this sense, you should use the second person perspective in your messages, especially when it comes to doing the subject line. Personalization is key here since it guarantees improved click through rates (14%) and conversions (10%).
Related: The Pick-up Lines of Email Marketing: How to Increase Open Rates In Just a Few Words
---
4.) Don't give out too much.
---
The aim of email marketing is to generate interest so that prospects will take a longer time to form purchase decisions. Giving them too much information to chew on defeats this purpose. We all know you want to increase your lead generation performance, but quality leads can only be nurtured through continued engagements.
Related: A Crash Course on Lead Nurturing… And Why it Matters
Read the latest updates on The Savvy Marketer's Blog
Get a targeted list or Learn more about Callbox Email Marketing Strategy
Contact us or Dial 888.810.7464
Grab a FREE copy of 40 B2B Sales Email Templates for Every Situation! These 40 examples have all been hand-picked from a variety of sources that tested these templates in terms of opens, click-throughs, and replies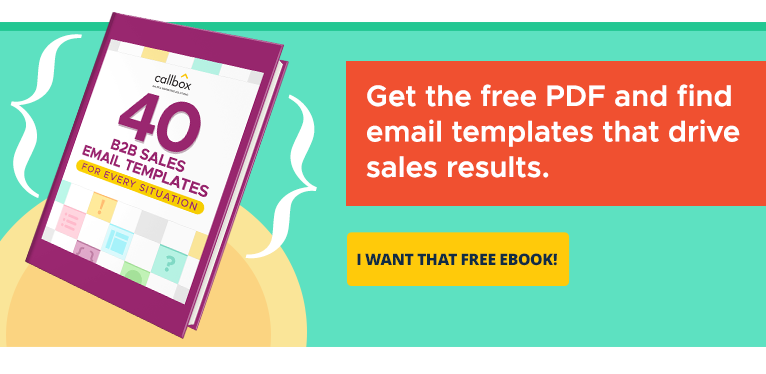 https://www.callboxinc.com/wp-content/uploads/2022/01/What-goes-into-creating-a-successful-Email-Marketing-Campaign.webp
450
800
Melody Esteban
https://www.callboxinc.com/wp-content/themes/enfold-child/assets/images/callbox-logo.svg
Melody Esteban
2022-01-03 06:00:00
2023-07-14 09:40:28
What goes into creating a successful Email Marketing Campaign
https://www.callboxinc.com/wp-content/uploads/2021/11/Email-marketing-What-does-2022-hold.webp
450
800
Guest Author
https://www.callboxinc.com/wp-content/themes/enfold-child/assets/images/callbox-logo.svg
Guest Author
2021-11-17 20:57:00
2023-02-02 00:00:42
Email marketing: What does 2022 hold?
https://www.callboxinc.com/wp-content/uploads/2021/11/6-B2B-Email-Etiquette-Tips-You-Shouldnt-Miss-1.webp
450
800
Guest Author
https://www.callboxinc.com/wp-content/themes/enfold-child/assets/images/callbox-logo.svg
Guest Author
2021-11-08 06:00:00
2023-05-30 14:16:00
6 B2B Email Etiquette Tips You Shouldn't Miss