Email turns 47 next year. Despite countless obituaries declaring the death of email, email remains the most important tool in a B2B marketer's arsenal. Research after research proves this, and the numbers all suggest a future where emails continue to drive marketing results.
Related: The Power of Email Marketing in 2016 and Beyond [INFOGRAPHIC]
But beneath the headline figures, a handful of trends have emerged in 2017 that hint at the shape of things to come in email marketing. Return Path's "Email Marketing Performance in 2017" shares some pretty interesting findings that are bound to impact your email campaigns next year.
Let's dive into the Return Path report and find out how this year's email marketing trends will influence your email results in 2018. We'll also consider insights from other 2017 email studies to get a fuller picture of what's in store for your upcoming campaigns.
#1 Email performance is improving.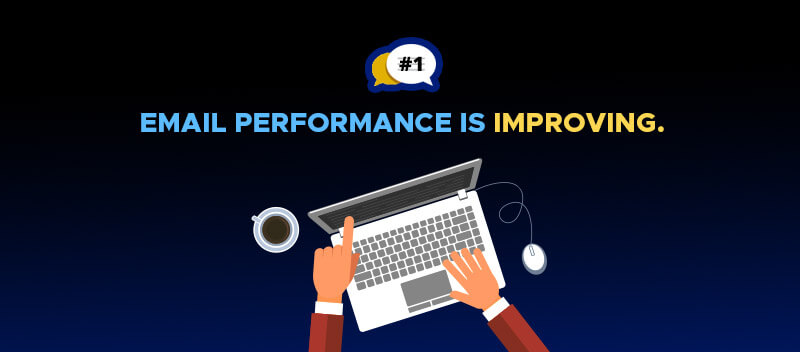 According to Return Path's survey, a full 85% of respondents say email is getting better, with nearly two-thirds claiming the increase as significant. Only around 15% think email performance is getting worse.
Vertical Response points to the top five key drivers of email marketing improvement:
Better personalization and segmentation (more than 80% of marketers now use segmentation)

Interactivity (53% of marketers now include interactive content, such as embedded surveys and quizzes

More compelling copy (creative typography and branding-focused design)

Increased automation (automation boosts CTRs by as much as 119%)

Deeper integration with email triggers (transactional and nurture emails)
Related: 7 Stats That Prove Email Marketing Is Still The MOST Reliable Channel [INFOGRAPHIC]
#2 Emails keep marketing goals within reach.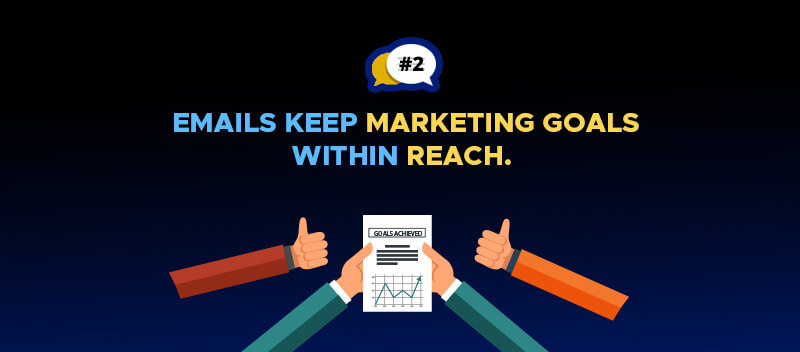 More than 90 percent of Return Path's respondents think their email marketing strategy helps them reach key marketing objectives, while another 60% consider emails as a best-in-class tactic for hitting their targets. That leaves just 1 in 10 decision-makers unable to credit emails in achieving their goals.
According to several marketing research published in 2017, email plays a leading role in the following:
Related: Curated: 13 Business Goals You Can Achieve Through Email Marketing
#3 Marketers maximize ROI with email, but…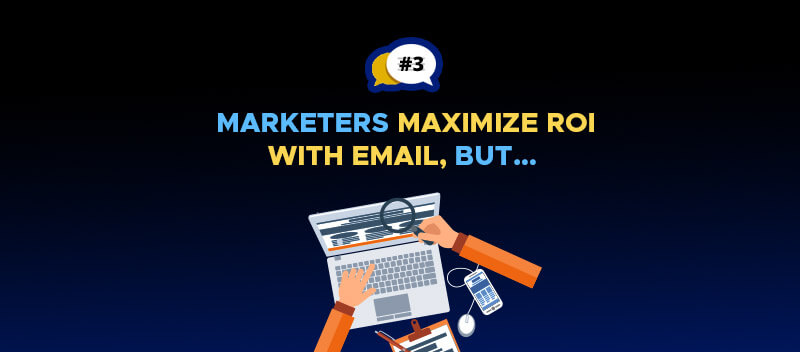 Return Path found that 51% of respondents named increasing ROI as their top email marketing objective. The survey also uncovered that accelerating list growth and increasing conversions were both the top goal for 44% of executives.
While email marketing continues to deliver exceptional ROI, measuring returns on email investment remains a key challenge.
Email is the fastest-growing channel for ROI, with 73% of marketers rating the channel's returns as "excellent" or "good" (Econsultancy and Adestra).

The median email marketing ROI is 122%, which is four times than those of other channels (eMarketer).

Only a small minority of marketers measure email performance beyond clicks, opens, and conversions (

Adestra

).
#4 Conversion is king.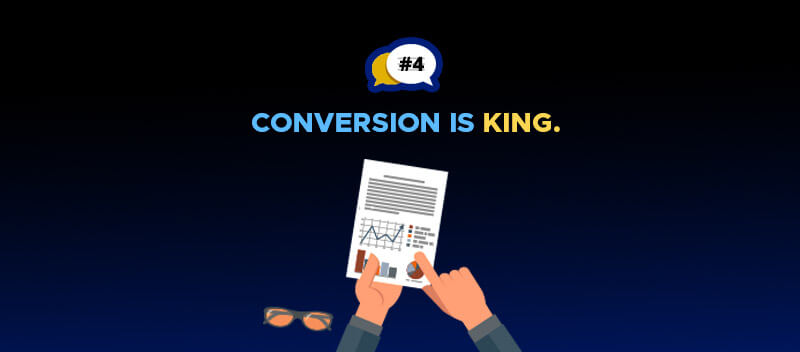 According to Return Path, 67% of decision-makers believe conversions are the most useful KPI for measuring email marketing performance. Another 44% of respondents rate ROI as the top metric to keep an eye on, and 41% say it's CTRs that matter the most.
Here's how other 2017 studies break down email marketers' metric usage:
CTRs (91%), open rates (80%), conversion rates (62%), bounce rate (41%), delivery rate (37%), and list growth rate (20%) (Adestra).

Customer acquisition (53%) and sales attributed to marketing campaigns (43%), (

IEEE GlobalSpec

).

Customer satisfaction (45%), customer retention (39%), leads (34%), upselling/cross-selling (33%) (IEEE GlobalSpec).
Related: 4 Email Closing Lines That Close Deals (Backed by Concrete Results)
#5 Email shortens lengthy sales cycles.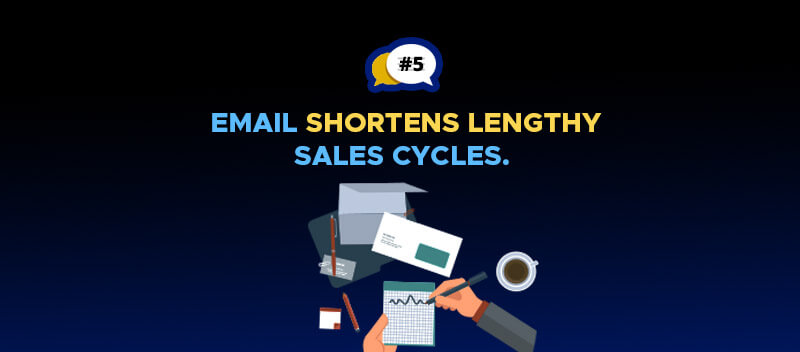 The Return Path study confirms what most marketers know: sales cycles are lengthening. But the more important finding is that emails accelerate the sales process. Around 51% of decision-makers surveyed follow a complex sales cycle with multiple touches before closing a deal. Email improves conversions which, in turn, helps leads move through the sales funnel more quickly.
Related: 5 Actionable Email Marketing Templates you can Use to Follow Up
Earlier in the year, HubSpot ran an article that cited stats showing email's impact on the sales/prospecting process:
On average, reps need to place 18 calls to connect with a prospect.

Only 24% of sales emails are opened.

90% of companies use at least two lead enrichment tools to know more about prospects.

Emails that contain 1 to 3 questions are 50% more likely to get a reply
#6 Outsourced + In-house = Effective Email Marketing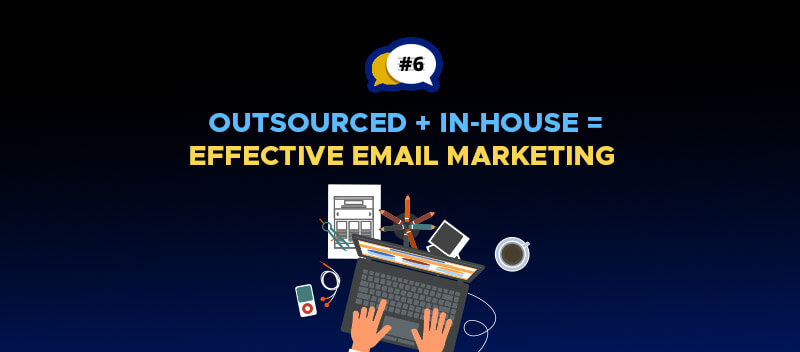 The formula for an effective email marketing campaign starts with the right combination of outsourced and in-house resources. Eighty-five percent of respondents in the Return Path study outsource all or part of their email marketing, while almost half think a collaboration of in-house resources and third-party expertise produces the best results.
Adestra's "Email Marketing Census 2017" delves deeper into the responsibilities and activities involved in most organizations' email campaigns. The report points out the following:
45% of organizations assign email responsibilities to a non-specialist in-house team, while only 8% of companies delegate email responsibilities to an internal individual email specialist.

As email marketing platforms improve, companies no longer need internal teams or individuals exclusively handling email activities.

61% of organizations spend at least 2 hours on email content and design, while only 39% of companies devote the same amount of time on strategy.

This can mean that companies will benefit from outsourcing content/design in order to focus more on strategy.
#7 Marketers love personalization and social sharing.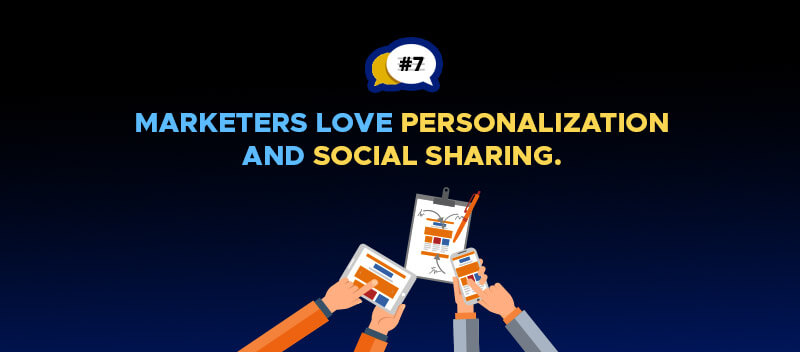 When it comes to email tactics, two best practices stand out. As much as 44% of Return Path's respondents consider message personalization as the most effective email tactic, while another 41% think it's social sharing.
Here's what other email marketing studies have uncovered about email best practices:
80% of marketers use personalization, 73% optimize emails for mobile, and 57% clean their lists regularly (Adestra).

Emails that contain social sharing buttons have 2.5 times higher CTRs (Nonprofit Hub).

Only 22% of marketers who use personalization describe their tactics as advanced (Adestra).
Related: The 5 Parts of the Best Lead Converting Email [INFOGRAPHIC]
#8 Nothing good ever comes easily.
Another key finding from the Return Path study is that the most effective email marketing tactics also tend to be the most difficult to carry out. When asked to name the most challenging email practice, 41% of respondents cite list segmentation, 38% name testing and optimization, and 35% answer personalization.
The survey participants also point to three tactics whose effectiveness outweighs the difficulties of implementation. These are message personalization, social sharing, and CTA optimization.
Adestra reports the following obstacles to email marketing performance:
26% of companies say not having enough budget makes it difficult to optimize emails for different devices.

Other barriers to optimization include lack of company understanding (9%), difficulty measuring ROI (8%), and a lack of expertise (8%).

50% of organizations blame poor data integration for personalization difficulties, while others point to inadequate technology (32%) and skills gaps (16%).
Related: Your Email New Year's Resolution: Sound Positive
The Takeaway
The biggest lesson to glean from Return Path's findings (and other 2017 email marketing studies) is that email continues to bring both opportunities and challenges. Each year, email keeps getting better and better at driving results. But email marketing also becomes marginally harder to manage year after year.
We've seen that the most effective tactics are also the most difficult to carry out. That's on top of hard-to-resolve deliverability issues, increased inbox overcrowding, and changing audience preferences.
There's simply no magic formula for email marketing success. What we've learned from all the research done into email marketing this year is to test and iterate. That's what every email marketer's mindset should be for 2018 and beyond.