CUSTOMER ACQUISITION SERVICES
Your business starts with us

Is your start-up ready to begin onboarding customers? Or maybe you've been in the selling game for a while now and just need a little boost in attracting a new audience? Which ever stage your business is in, the smartest thing you can do when it comes to customer acquisition is to not waste time trying random tactics. Focus on perfecting your product while you leave the lead generation to the experts.
Why wait for customers to trickle in when you can fast track the sales process? Let us help you introduce your product or service to the market through our Customer Acquisition programs. You've spent years preparing your product, we make sure it gets to the right people at the right time  — we get them interested and ready to listen to what you have to offer. With a focus on lead quality, Callbox ensures you spend your precious time only on closable leads.
Backed by over 10 years of solid lead generation experience in specialized industries and intuitive marketing technology, we give you the ability to scale your sales team to a marketing powerhouse as we utilize our mastery of the prospecting process over multiple channels – voice, email, social, web, chat and webinars. Equipped with an understanding of your business requirements, we design a lead generation solution that delivers simply what you need: qualified sales leads and appointments.
Callbox is proud to help the world's most successful brands achieve their sales and marketing goals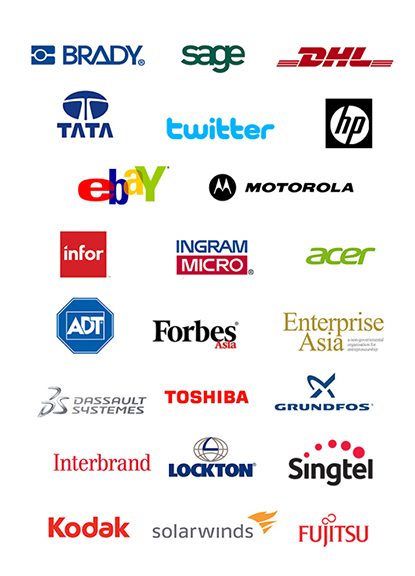 .
I love the integrity with which you work. I'm so grateful to have you on my team, I love the passion with which you do your step of our process.
Ian Warner, CEO, Aprio Governance Information Software
I had a wonderful experience with Callbox starting from the Sales team to the Campaign Execution team. For us, they are an extension of our sales & marketing team. They can execute well if given good guidance in the beginning of the campaign. They do not shy away from putting extra work in making your campaign successful. It is a hard working, talented team and I would love to continue to work with the team in the future for 2015 campaigns.
Shilpi Sharma, Kvantum Inc.
Both our prospects today have signed up (verbally) to the system! Well done – you're doing such an awesome job.
Helen Joronen, CEO, Greenkeeper Systems
They tell me that I am lucky to have such a great person working for me. I am so thankful to Tricia, to you and to your entire team for working so hard to make me look so good!
Dwight Holcomb, Managing Director, HC Development, Inc.
How We Help Businesses Succeed
We keep any info you share with us private and confidential. For more on how we process and protect your data, please review Callbox's
Privacy Policy
SINGAPORE

+65 3159 1112

AUSTRALIA

+61 (02) 9037 2248

MALAYSIA

+60 (3) 9212 5776

NEW ZEALAND

+64 9914 3122

HONG KONG

+852 3678 6708

COLOMBIA

+57 601 508 4456

UNITED KINGDOM

+44 (207) 442 5066
General Inquiries

Media Inquiries

Sales Assistance

Job Inquiries
4924 Balboa Blvd. #353, Encino CA 91316 USA