Guest blogging means contacting other bloggers and asking them if you can offer them an article that fits their blogs' niche and caters to their audience. The catch is the article will have a link back to your blog or website to promote your products or services. It can boost traffic to your site, build relationships, establish your online reputation, and increase your website's search engine ranking.
If you know what you must do as a guest blogger, then it won't be difficult for you to be an expert at guest blogging. However, before you set off writing awesome content, you need to know whom to send it to. Thus, the first thing you need to do is find guest post targets.
You can do this by working on your search strings, or the words you will use in search engines like Google to look for potential blogs. The most common search string you can use is "YOUR KEYWORD" + "write for us". Here are other search strings you could try:
YOUR KEYWORD "guest post opportunities"
YOUR KEYWORD "contributing writer"
YOUR KEYWORD "submit blog post"
YOUR KEYWORD "this is a guest post by"
YOUR KEYWORD "want to write for"
YOUR KEYWORD "contribute to our site"
You can also tap into Twitter and Google+ to search for blogs or users that accept guest posts on their blogs/websites.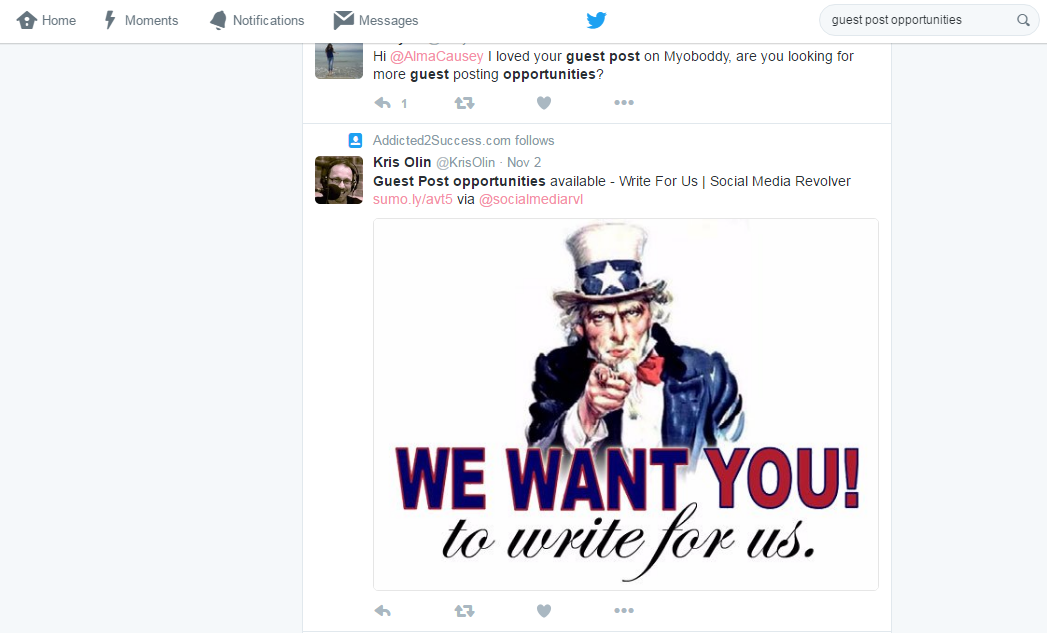 Another way to look for websites accepting guest posts is by leaving comments on blogs.
Let's say Simon has a blog, and you happen to think of an interesting content you'd like to contribute on his site. What you must do is look for a relevant content on his blog or at least something that's related to what you have in mind, read it, and comment away. Don't forget to politely ask in your comment if Simon would be willing to accept a guest post that would be beneficial not only to you but also to him.
Next, research on your targets.
After you have rounded up a list of potential blog owners you would like to submit your posts to, look them up and find out more about them. If possible, reach these targets by email.
Related: You Can't Hit Two Birds with One Stone: Creating Content for Demand Gen & Lead Gen
However, never make the mistake of crafting generic-sounding emails, as the recipients are bound to see through it. Work on your email pitches, because the last thing you want is to have your pitches rejected. Here are two sample guest post emails you can draw inspiration from:
Sample Guest Post Email Template 1
Hello [name of the blog owner or editor],
I'm a regular reader of ______ [name of the blog]. I truly liked the blog post that you wrote about _________ [a popular post on that blog, and a couple of useful points that caught your attention].
Since you already publish guest posts from different authors in your niche, I thought it would be nice if I too had an opportunity to present your blog's readers with something of real value.
I work as a ________ (relevant industry position). Over the recent past, I've contributed guest articles to several niche industry blogs including _____ [list of the blogs you've written for]. I understand the need for unique and well-researched content. And I'm also very passionate about any topic or subject that I write about.
Please have a look at some of my recently published guest posts –
[URL 1]
[URL 2]
[URL 3]
……….
I'd love to share my insights with the readers of your blog in a guest post titled "_________" [title of the guest post]. In this post, I'll discuss some key points including ___________ [main points you'll discuss]. The word count of the post will be no less than _______ [number of words].
Awaiting your positive response,
Regards,
________ [your name]
________ [URL of your website or blog]
________ [links to your social media profiles]
The above was unselfishly shared by John Fletcher of Blog Easy Way since he wanted to help guest bloggers pitch their emails the right way. That's because a poorly-written pitch could end up unread and sent straight to trash, and that's the last thing you want to happen to your email pitch.
Related: 6 Most Important and Untold Benefits of Repurposing Old Content
Sample Guest Post Email Template 2
Hi [name]!
I'm [your name] from [company]. I work with [mutual connection] who mentioned that you [what mutual connection said about the influencer].
[Mutual connection] said that it would be a good idea to get in touch with you to learn more about [topic] and work on [project] together.
Does this sound like something you would be interested in? If so, I would love to call you some day this week around noon and figure out a way to make it mutually beneficial.
Let me know what you think!
Best,
[your name]
According to David Ly Khim who shared the above template at Mention, the template works because the email clearly states you want to work with the influencer/blogger. Moreover, the email makes it clear that your guest post will be mutually beneficial for you and the blogger.
Related: How do B2B Marketers Craft an Industry Related Content
It's up to you whether you will use the above templates or add your own spin to them. The important thing is these will guide you to create an email pitch that's guaranteed to get you an approval.
Finally, you need to work on creating a meaty, attention-grabbing, and informative article that will give justice to your email pitch.
Here's a tool that scrapes websites that accept guest post. Go check it out!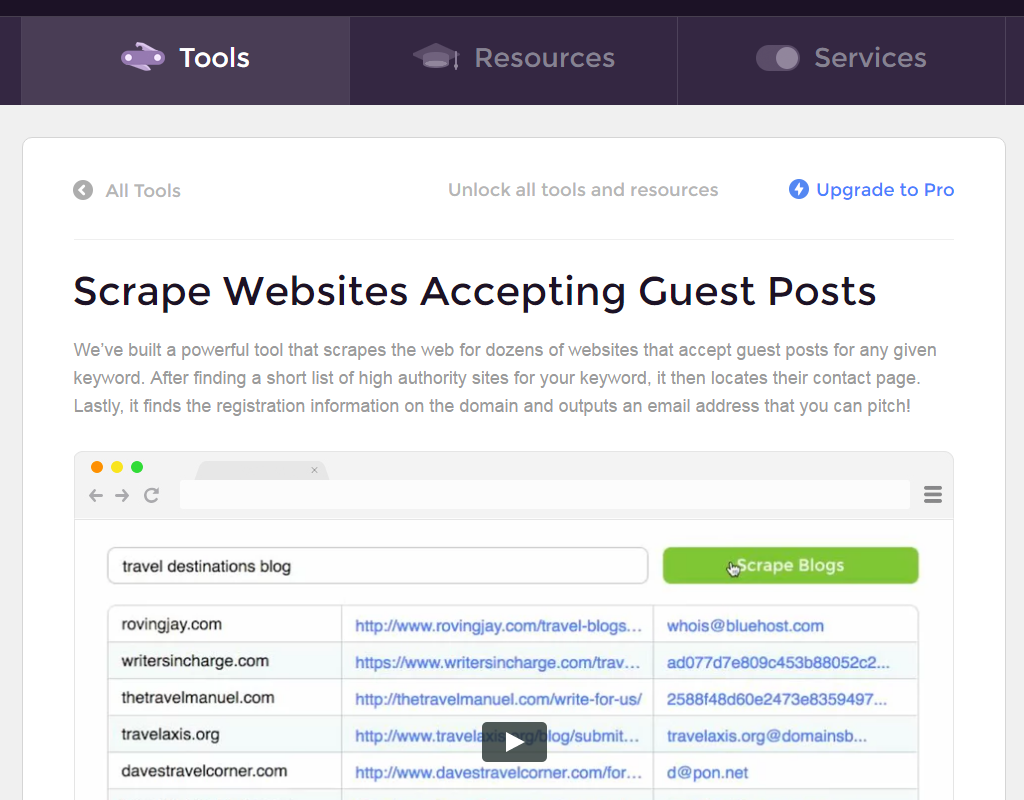 Keep in mind that both your and the blog owner's reputations are in line, so make sure you deliver and provide content that's read-worthy. In addition, make sure to heed the guest post guidelines of the blog that you will be writing for so you'll automatically book a "next time".
Got ideas of your own? Share them with us!