Nobody likes third parties. In fact, the term "third party" has gained a certain level of notoriety in pop culture that the mere mention of it in the same sentence as "break-up" or "divorce" and the names of a popular couple will instantly earn link clicks on top of the mandatory angry emoji. A third party, if pop culture is to be believed, more often than not, ruins relationships.
Except Callbox. We like — no, love — third parties.
See, Callbox is a third party itself. In a business-to-business setup, there's Company A (first party), Company A's client – let's call them Company B (second party), and Callbox (third party). We help Company A deliver better services to Company B (although sometimes, we also help Company A get clients, which does not make us a third party) through a combination of tested and proven marketing solutions. Company A and hundreds of other organizations know Callbox provides excellent results in B2B Lead Generation, Appointment Setting, Customer Profiling, Marketing Automation, Lead Nurturing, Event Marketing, and a lot more, we've been pretty consistent for more than a decade. Callbox also has shown proven experience in specialized industries like IT, Software, Healthcare and Medical, Advertising, and a lot more.
We always do our best because we want to be worthy of our clients' and partners' trust. After all, we are nothing without them. But it's also a joy to know that, aside from our clients' praises, other people and organizations also recognize what we do – organizations like third party review sites.
To start the year, Callbox was ranked number as one of the Best Lead Generation Services by Top Ten Reviews itself, a reputable name in the industry. Thank you, Top Ten reviews!
Then Comparakeet, another big-time third party review site "put together the very best companies on the world of sales lead generation" and ranked Callbox number two. Not a shabby accomplishment, considering there are thousands of other companies in the industry. According to Comparakeet, Callbox is "A highly recommended lead generation service that offers a fantastic proprietary CRM Pipeline, multi-channel marketing, reporting features, and more."
Click here for the full review.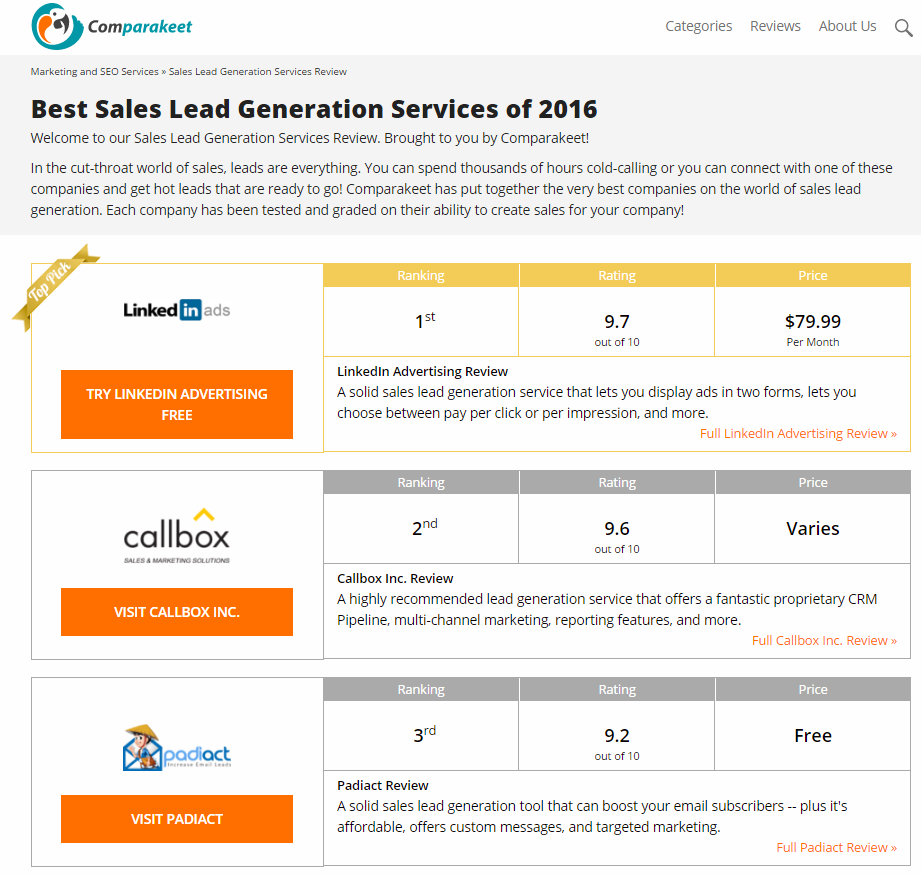 And because when it rains, it pours, TopSEOs, an "Independent Authority on Search Vendors" also came up with the 10 Best Lead Generation Companies and pegged Callbox as a Strong Performer at number five with an overall score of 97%. Almost perfect score there, too.
Below are just perfect proofs that Callbox does an amazing performance in the lead generation industry. Callbox Clients' Successful B2B Lead Generation Campaigns:
All in all, it's a good year (yet again) for Callbox. And as if we haven't had enough of the good news yet, the year isn't over in three more months. Who knows, we might just top another review. With your continued trust, we can do even better for you. To our partners, we share with you these accolades. You are as worthy of all these as we are.
Aren't you starting to love third parties yet?
Check out our latest recognitions in perfecting our lead generation process:
Clutch Ranks Callbox Among Top 5 B2B Firms in 2 Service Categories
Callbox Maintains High Rankings on Major Agency Review Sites
Callbox Continues Momentum in 2018 with Latest Spate of Top Rankings
Comparakeet: Callbox is One of the Most Sought After Lead Generation Services for 2017
Get to know Callbox even better. Watch this video!